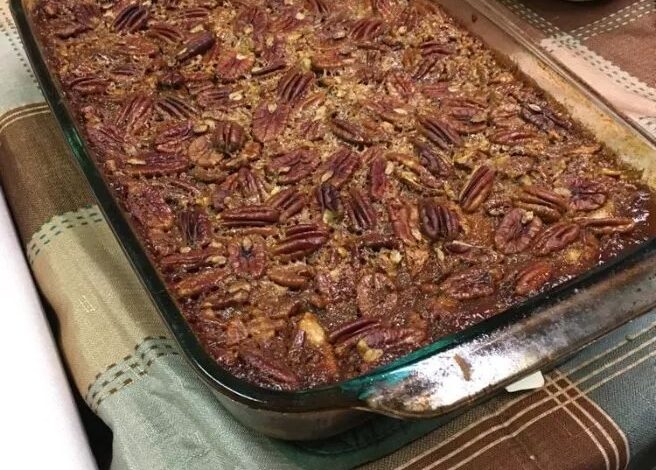 Pecan Pie Cobbler

Ingredients
For the Cobbler Batter:
4 tablespoons 1/2 stick unsalted butter
½ cup Bob's Red Mill Organic All Purpose Flour
½ cup Bob's Red Mill Organic Whole Wheat Flour or additional all-purpose flour
3/4 cup packed light brown sugar
1 1/2 teaspoons baking powder
1/2 teaspoon kosher salt
1/2 teaspoon ground cinnamon
1/2 cup 2% milk
2 tablespoons dark rum or an additional 2 teaspoons pure vanilla extract and 1 tablespoon additional milk
1 teaspoon pure vanilla extract
For the Topping:
2/3 cup packed brown sugar light or dark
1 cup chopped pecans
1 1/2 cups very hot water
For Serving:
Vanilla ice cream or sweetened whipped cream
Instructions
Position a rack in the center of the oven and preheat oven to 350 degrees F. Place the butter in an 8×8-inch ceramic baking dish or similar 2-quart baking dish. Pop the dish into the oven until the butter melts, about 5 minutes. Set the dish with melted butter aside.
In a medium mixing bowl, prepare the cobbler batter: add the all-purpose flour, whole wheat flour, light brown sugar, baking powder, salt, and cinnamon. With a fork, stir to combine. Pour in the milk, rum, and vanilla extract, then stir with the same fork, stopping as soon as the flour disappears.
In a small mixing bowl with a clean fork, stir together the topping ingredients: brown sugar and pecans.
With a small spoon, dollop the batter over the melted butter. Use the back of the spoon to gently smoosh it into an even layer. DO NOT STIR. Sprinkle the topping evenly over the cobbler batter. It will feel like an excessive amount, but keep going (this is pecan pie cobbler after all!).
Last, slowly and evenly pour hot water over the entire cobbler, covering the whole surface. It will look like a wet mess. Again, DO NOT STIR.
Line a rimmed baking sheet large enough to hold the dish with parchment paper for easy clean up (This will catch any delicious molten caramel that bubbles over). Carefully set the pan on top and slow and gently transfer to the oven, being careful not to splatter. Bake uncovered in the center of the oven for 30 to 40 minutes, or until the top is golden brown and looks dry on top. Transfer the baking pan to a wire rack and let cool for 20 to 25 minutes (the cobbler will continue to thicken as it cools). Serve warm, topped with vanilla ice cream.