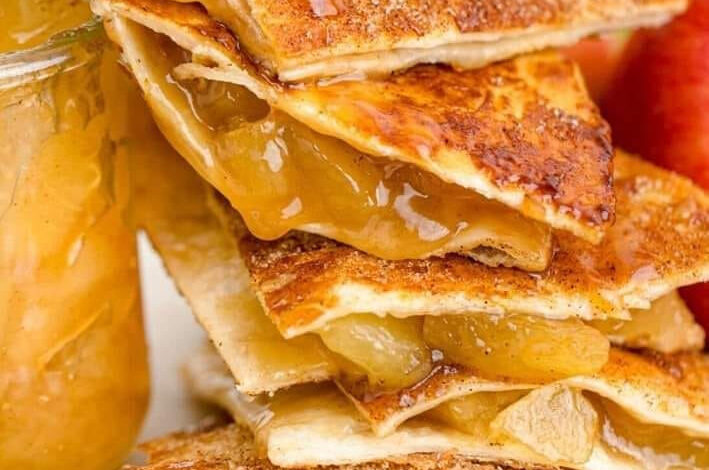 Ingredients:
2 small apples, peeled, cored, and thinly sliced
1 tablespoon unsalted butter
1 teaspoon ground cinnamon
1/2 teaspoon ground nutmeg
1 tablespoon brown sugar substitute (such as Swerve Brown Sugar)
4 small whole wheat or low-carb tortillas
Cooking spray
Powdered sugar substitute for dusting (optional)
Instructions:
In a skillet over medium heat, melt the unsalted butter.
Add the sliced apples, ground cinnamon, ground nutmeg, and brown sugar substitute to the skillet. Cook, stirring occasionally, until the apples are tender, about 5-7 minutes. Set aside.
Lay out the tortillas and divide the cooked apple mixture evenly among them, placing it on one half of each tortilla.
Fold the tortillas in half over the apple mixture, creating a half-moon shape.
Heat a clean skillet or griddle over medium heat and lightly coat it with cooking spray.
Place the folded quesadillas on the skillet and cook for about 2-3 minutes on each side or until they are golden brown and crispy.
Remove from the skillet and let them cool for a minute before slicing each quesadilla in half.
If desired, dust the tops with powdered sugar substitute before serving.
Enjoy your Weight Watchers Apple Pie Quesadillas!
WW Points (Approximate per Serving):
The points can vary based on ingredients and portion sizes. For a typical serving size (1/2 quesadilla), it's 4 WW points