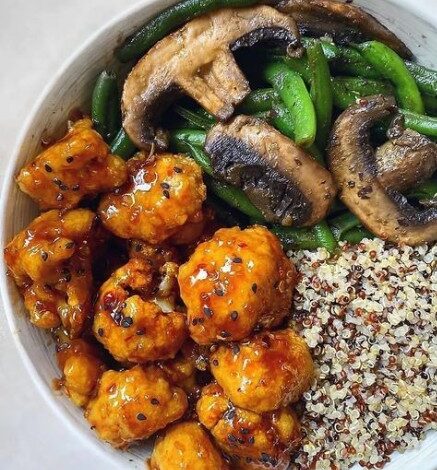 Ingredients.
Cauliflower:
1 large head cauliflower
3/4 cups oat flour (or regular flour)
1/2 cup arrowroot (or corn starch)
1/2 teaspoon sea salt
1/2 teaspoon onion powder
1 tsp garlic powder
3/4 cup unsweetened non-dairy milk+ two teaspoons apple cider vinegar (mixed)
Sesame Sauce:
1 tbsp toasted sesame oil
1 tbsp olive oil
4 cloves garlic, minced
1 tsp fresh ginger grated
¼ cup maple syrup
⅓ cup low sodium soy sauce
1 tbsp rice vinegar
1 tsp chili garlic sauce (or sriracha)
1/2 tbsp arrowroot starch
1 tbsp cold water
Method.
1. Preheat the oven to 425F.
2. In a large bowl, whisk together the flour, arrowroot starch, garlic powder, onion powder, salt and non-dairy milk/ACV. Be sure to mix until no clumps remain and it looks like batter.
3. Add the cauliflower florets into the bowl and thoroughly mix to coat all of the pieces.
4. Transfer to a baking sheet lined with parchment paper and bake for 30 minutes.
5. To prepare the sauce: In a bowl, whisk in the sesame oil, grated ginger, maple syrup, soy sauce, rice vinegar and chili garlic sauce(or sriracha) —then set aside.
6. Add minced garlic to a sauté pan with olive oil. Sauté for until lightly golden brown.
7. Add prepared sauce into pan and let simmer over low heat.
8. In a small bowl, whisk together the arrowroot powder and cold water. Pour into the pot with the sauce.
9. Let simmer over low heat until thick, whisking occasionally to prevent any clumps from forming. Once it thickens, remove from heat.
10. When the cauliflower is done, let cool for about 5 minutes and then coat with the sauce. Once coated add cauliflower back into baking sheet with lined parchment paper and put back in the oven for 5 minutes to crisp up