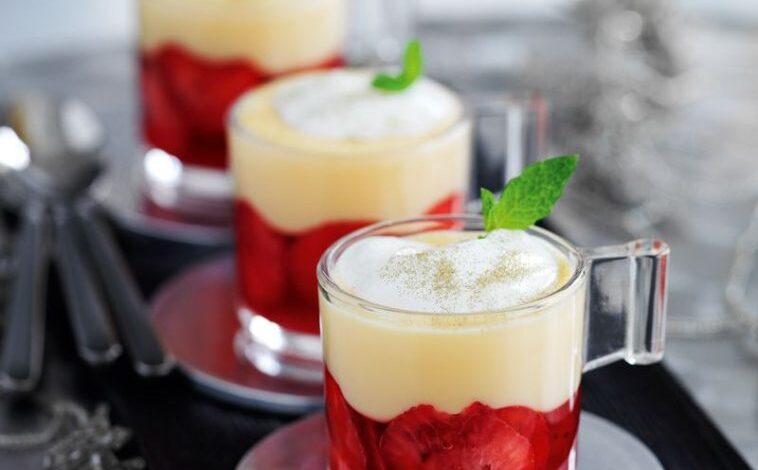 Take a trip down memory lane with these jelly and custard Slimming World trifles. Our cute mini trifles are the perfect slimming-friendly pud for one – and they're a doddle to make!
Total Time20minutes mins
Course: Dessert
Cuisine: slimming world
Keyword: Slimming world, trifles
Servings: 8
Ingredients
2 x 11.5g sachets sugar-free strawberry jelly crystals
100 g strawberries hulled and sliced
400 g ready-made reduced-fat custard from a can/carton
400 g fat-free natural fromage frais
Fresh mint sprigs to decorate
Edible gold glitter/sprinkles to decorate (optional)
Instructions
Make the jelly according to the pack instructions and allow to cool.
Divide the strawberries between 8 individual trifle glasses and pour over the jelly to just cover. Put the glasses in the fridge and chill for a minimum of 6 hours or overnight, until set.
To serve, evenly spoon the custard over the jellies and top with the fromage frais. Decorate with the mint sprigs and sprinkle with edible glitter(1 syn per level tsp), if using.
Notes
2½ Syns each 20 minutes plus 6 hours 20 minutes cooling and chilling Makes 8