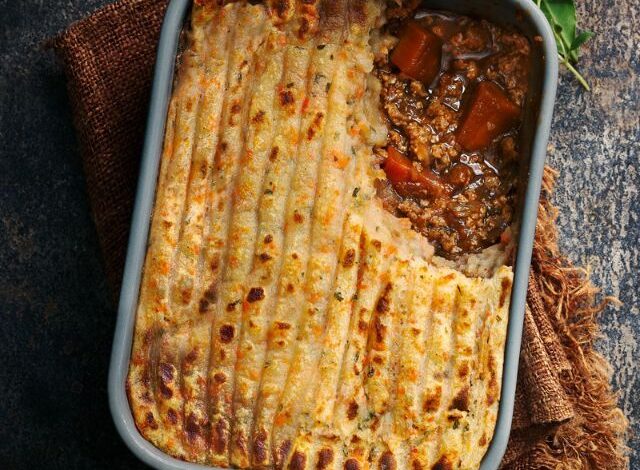 Syn Free Cottage Pie – a meal the whole family can enjoy. Everyone loves a good cottage pie, it was the kind of dish most of us had weekly with creamy buttery mash potato on top.
Prep Time10minutes mins
Cook Time1hour hr
Total Time1hour hr 10minutes mins
Course: Main Course
Cuisine: slimming world
Keyword: Syn Free Cottage Pie
Ingredients
450 g 1lb of extra lean ground beef
2 carrots chopped
1 large onion chopped
2 cloves of garlic crushed
½ cup 120mls of frozen peas
3 cups 720ml of beef or vegetable stock
2-3 tablespoons of tomato paste
1 tablespoon of marmite optional
splash of balsamic vinegar
splash of Worcestershire sauce
Fresh Thyme and Rosemary
Salt and black pepper
Spray oil
For the topping:
700 g 24.5oz of white potatoes, cubed
500 g 17.5oz of sweet potato, cubed (or you can use just white or just sweet potato)
Chicken or vegetable stock
salt and black pepper
2 eggs
Instructions
Spray a large frying pan over a medium high heat with spray oil, add the onion and garlic to the pan and cook until softened. Add the carrot and cook for a further 3-4 mins.
Add in the ground beef, fresh thyme and rosemary and cook until browned, breaking up any big lumps with the back of a wooden spoon.
Add the stock, tomato paste, marmite, Worcestershire sauce and balsamic vinegar and bring to the boil, reduce heat and allow to simmer for approx 20mins until sauce thickens.
Set aside and allow to cool completely (I find this works better to layer the potatoes on top)
Preheat oven to 200c/400f (gas mark 6)
Add the sweet and white potato to a pan and just about cover with chicken stock, bring to a boil and cover and simmer till fork tender.
Drain the water from the potatoes and season to taste with salt and black pepper, add the eggs and mash until smooth.
Add the ½ cup of frozen peas into the meat mixture, and transfer it all to a oven proof dish.
Top with the mashed white and sweet potato and roughly smooth over with a fork. Spray over the top with some spray oil.
Bake in the oven for approx 30 mins, until the mash is slightly golden on top. You can then brown the top under a grill for an additional few mins to make the top more golden if you prefer.
Serve with your choice of side and Enjoy!!!
Optional: top the potatoes with some cheese to make a yummy cheese crust.
Notes
Amount Per Serving CALORIES: 308.7 TOTAL FAT: 4.7 g SATURATED FAT: 1.7 gCHOLESTEROL: 105.3 mg SODIUM: 409.8 mg CARBOHYDRATES: 37.5 g FIBER: 6.6 g SUGAR: 3.8 g PROTEIN: 24.3 g