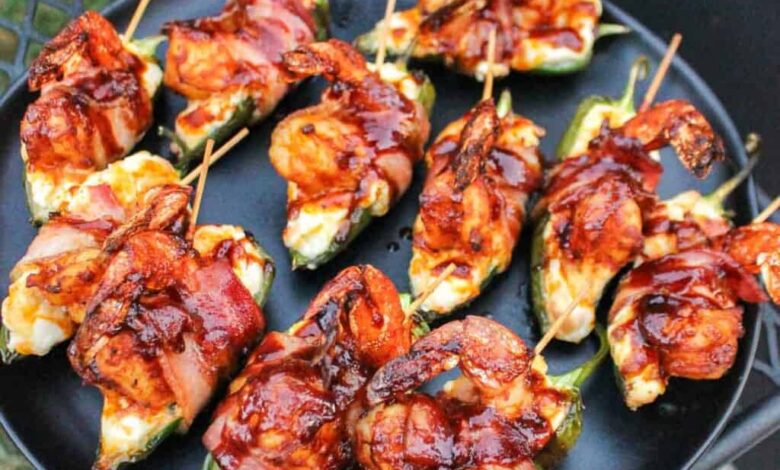 Shrimp Jalapeño Poppers for a fun, easy and impressive appetizer!
PREP TIME:30MINUTES MINUTES
COOK TIME:1HOUR HOUR
TOTAL TIME:1HOUR HOUR 30MINUTES MINUTES
COURSE:APPETIZER, LUNCH
CUISINE:AMERICAN
SERVINGS:4 PEOPLE
INGREDIENTS
SHRIMP:
▢1.5 lbs Jumbo Shrimp peeled w/tails
▢2.5 tbsp Big Bad BBQ Ale Or your favorite BBQ rub
▢Favorite BBQ Sauce for glazing
▢Canola Oil as needed
POPPERS:
▢5-6 Fresh Jalapeños cored & seeded
▢20 oz Cream Cheese
▢1 cup Shredded Cheese
▢10-12 Bacon Strips
INSTRUCTIONS
Begin by mixing together the cream cheese, shredded cheese and bbq rub in one bowl.
Next, take a jalapeno and slice it in half lengthwise. Using gloves or a utensil, scoop out all the filling and seeds from the inside of the jalapeno.
Once cleaned, stuff the pepper with some of the cream cheese mixture.
Next, slather your shrimp with oil and generously season with Big Bad BBQ Ale seasoning, or your favorite barbecue rub.
Take one of the shrimp and place it on top of the cream cheese in the jalapeno with the tail sticking up.
Wrap the shrimp in bacon and secure everything with a toothpick.
Repeat this for all your jalapeno poppers, then set everything to the side until ready to cook.
Preheat your smoker for indirect cooking at 250F. Add some wood chips or chunks for added smoke flavor.
Add your jalapeno poppers to the smoker and cook until the bacon is fully done (about 30-45 minutes).
About 10 minutes before pulling off, glaze the outside with your favorite bbq sauce and continue cooking.
Once they are done, pull them out and let them cool for 10 minutes. Serve and enjoy!