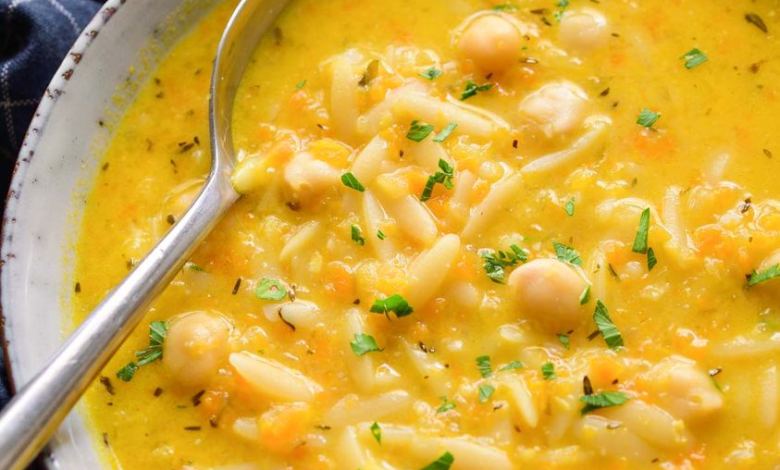 Lemon Chickpea Orzo Soup
Ingredients:
1 cup orzo pasta
1 can (15 ounces) chickpeas (garbanzo beans), drained and rinsed
1 onion, diced
2 carrots, diced
2 celery stalks, diced
4 cloves garlic, minced
6 cups chicken broth
Juice and zest of 2 lemons
2 bay leaves
2 teaspoons dried thyme
Salt and pepper to taste
Olive oil for sautéing
Fresh parsley for garnish (optional)
Instructions:
Sauté Vegetables:

Heat a large pot over medium heat and add a drizzle of olive oil. Sauté the diced onion, carrots, and celery until they begin to soften, about 5-7 minutes.
Add the minced garlic and continue to sauté for another 1-2 minutes until fragrant.

Add Broth and Seasonings:

Pour in the chicken broth and add the bay leaves, dried thyme, and lemon zest. Bring the mixture to a boil.

Cook Orzo:

Once the soup is boiling, reduce the heat to a simmer and add the orzo pasta. Cook according to the package instructions until the orzo is al dente, usually about 8-10 minutes.

Incorporate Chickpeas:

Stir in the chickpeas and continue to simmer for another 2-3 minutes until the chickpeas are heated through.

Season with Lemon:

Remove the bay leaves from the soup, and then stir in the lemon juice. Taste the soup and adjust the seasoning with salt and pepper as needed. The lemon juice should add a bright, tangy flavor.

Serve:

Serve the Lemon Chickpea Orzo Soup hot, garnished with fresh parsley if desired.
Customize the soup to your liking by adding other vegetables like spinach or kale, or even some grated Parmesan cheese for extra flavor. It's a versatile and comforting soup that can be a meal on its own or served as a starter or side dish. Enjoy!