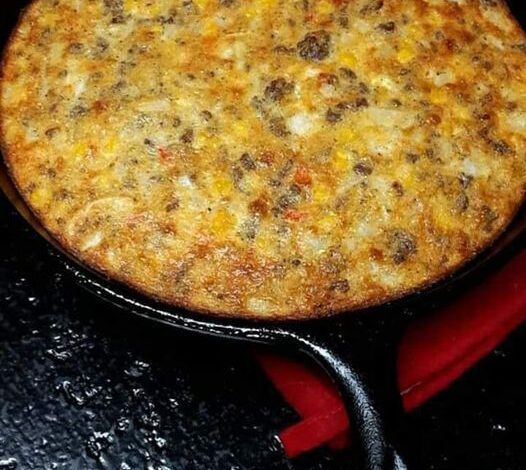 You'll Need:
6 slices of OSCAR MAYER Bacon, chopped
2 lbs. lean ground beef, lean
1 onion, chopped
1 red bell bell pepper, minced
1 can (15 oz.) tomato sauce, chopped
1/3 cup green olives, chopped
1/4 cup raisins
1 package (8.5 ounces) prepared corn muffin mix, prepared according to package directions
1 cup KRAFT Shredded Sharp Cheddar Cheese, shredded 1 cup KRAFT Shredded Sharp Cheddar Cheese
3/4 cup BREAKSTONE'S Sour Cream or KNUDSEN'S sour cream
Let's make it
Preheat oven to 350ºF. Cook bacon in a large skillet until crisp, about 5 minutes; drain. Reserve bacon. Add ground beef, onion and bell bell pepper to skillet; cook for 5 minutes or until meat is browned, stirring constantly. Add tomato sauce and stir; cook for 3 minutes or until heated through. Remove from heat; stir in olives, raisins and reserved bacon. Spoon mixture into a 13×9-inch baking dish.
Combine prepared muffin mix and cheese in a medium bowl. Use a spoon to spread this evenly over the meat mixture.
Bake the casserole for 20 minutes or until the corn topping is baked through and golden brown. Let cool slightly before serving. Serve each serving with the sour cream.
Cooking Tips
Tip 1
How to serve
To complement this meal, serve with your favorite steamed vegetables.
Tip 2
Do it before
Prepare the meat mixture; cover. Refrigerate for 3 to 4 days or freeze for up to 1 month. When ready to use, remove from refrigerator; spoon into baking dish. Prepare muffin mix as directed on package; stir in cheese. Spoon this over the meat mixture and bake, following the directions. If the meat was frozen, thaw in the refrigerator before using.
Tip 3
A little extra touch
Add chopped chipotle chiles or chives to the corn mixture. Then spread the mixture over the meat and bake.