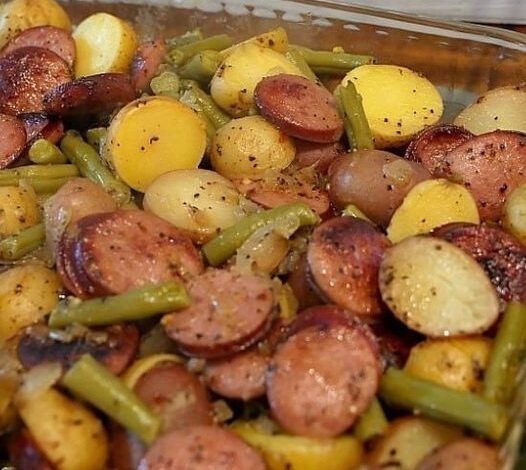 SAUSAGE GREEN BEAN POTATO CASSEROLE
Feast on a comforting Green Bean, Potato, and Sausage Casserole with our step-by-step recipe at Ineskohl Kitchen. Perfect for holidays or any hearty meal, this casserole combines savory sausages, tender potatoes, and green beans in a flavorful dish that's easy to make. Visit our blog for this delicious recipe and more culinary inspirations!
Green Bean, Potato, and Sausage Casserole Recipe
Ingredients:
2 lbs baby potatoes or creamer potatoes, halved if large
2 cans (15 ounces each) green beans, drained
1½ lbs sausage (kielbasa, andouille, or smoked sausage), sliced
1 cup yellow onions, chopped
⅛ cup vegetable oil, plus a drizzle for sautéing
¼ cup unsalted butter
3 cloves garlic, finely chopped (or 2 tablespoons minced garlic)
1 teaspoon Cajun seasoning
1 teaspoon garlic powder
1 teaspoon Creole seasoning
½ teaspoon salt
1 teaspoon ground black pepper
½ teaspoon red pepper flakes (adjust to taste)
Instructions:
Preheat your oven to 400 degrees Fahrenheit.
In a large, heavy-duty skillet, add a small drizzle of vegetable oil over medium heat.
Once the oil is hot, place the sausage slices in the skillet. Let them cook for about 5 minutes on each side until they are nicely browned, but not too dark, as they will continue cooking in the oven. Do this in batches if necessary to avoid overcrowding the pan.
Using a slotted spoon, transfer the browned sausages to a clean bowl. Resist the urge to snack on these – they are crucial for your casserole!
In the same skillet, melt the butter. Add the chopped garlic (or minced garlic from a jar) and let it sizzle for a minute or so, being careful not to burn it.
Add the chopped onions to the skillet with the garlic and butter. Sauté until the onions are soft and translucent.
While the onions are cooking, place your halved baby potatoes in a separate large bowl. Toss them with the ⅛ cup of vegetable oil, garlic powder, Cajun seasoning, Creole seasoning, salt, pepper, and red pepper flakes.
Once the onions and garlic are sautéed, pour this mixture over the seasoned potatoes and stir to combine.
Add the cooked sausages and drained green beans to the bowl with the potatoes. Gently fold everything together until well mixed.
Spray a 9×13 inch casserole dish with non-stick cooking spray. Pour the green bean, potato, and sausage mixture into the dish and spread evenly.
Cover the casserole dish with aluminum foil and bake in the preheated oven for about 40 minutes.
After 40 minutes, remove the foil and check to ensure the potatoes are tender. If they are, your casserole is ready to serve. If not, bake for an additional 5-10 minutes uncovered, or until the potatoes are soft.
Once done, remove the casserole from the oven and let it stand for a few minutes before serving.
Enjoy the robust flavors and the comforting warmth of this Green Bean, Potato, and Sausage Casserole. It's perfect for a family dinner or as a crowd-pleasing side dish during the festive season. Visit https://ineskohl.info for more delicious recipes and kitchen tips!