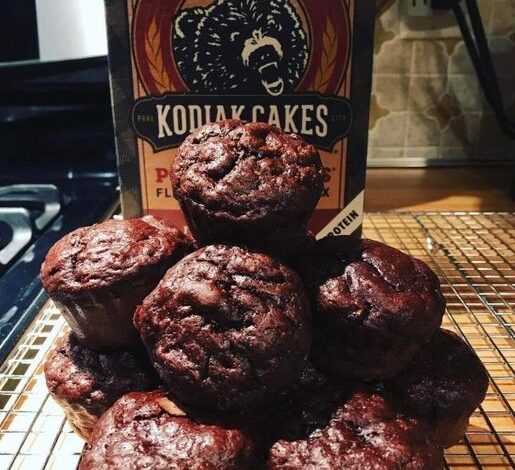 Ingredients:
1 1/2 cups Kodiak Cakes Chocolate Chip Power Cakes Mix
1/4 cup unsweetened cocoa powder
1/4 cup zero-calorie sweetener (like Stevia or Erythritol)
1 tsp baking powder
1/2 tsp baking soda
1/2 tsp salt
2 large eggs
1 1/2 cups unsweetened almond milk (or any milk with lower SmartPoints)
1/4 cup unsweetened applesauce (as a substitute for oil)
1 tsp vanilla extract
1/4 cup mini chocolate chips (optional, but adjust SmartPoints accordingly)
Instructions:
Preheat your oven to 350°F (175°C). Line a muffin tin with paper liners or grease it with cooking spray.
In a large mixing bowl, combine the Kodiak Cakes mix, unsweetened cocoa powder, zero-calorie sweetener, baking powder, baking soda, and salt. Mix well to combine all the dry ingredients.
In a separate bowl, whisk together the eggs, unsweetened almond milk, unsweetened applesauce, and vanilla extract.
Pour the wet ingredients into the dry ingredients and stir until just combined. Be careful not to overmix; a few lumps are okay. If you're using mini chocolate chips, fold them into the batter.
Spoon the batter into the prepared muffin tin, filling each cup about 2/3 full.
Bake in the preheated oven for about 15-20 minutes or until a toothpick inserted into the center of a muffin comes out clean. Baking times may vary depending on your oven, so keep an eye on them.
Once done, remove the muffins from the oven and let them cool in the tin for a few minutes before transferring them to a wire rack to cool completely.