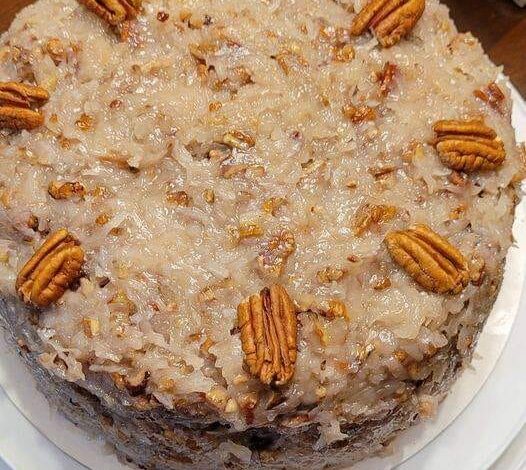 Ingredients:
For the cake:
2 cups all-purpose flour
1 1/2 cups granulated sugar
1/2 cup cocoa powder
1 teaspoon baking powder
1/2 teaspoon baking soda
1/2 teaspoon salt
1 1/2 cups almond milk (or any other plant-based milk)
1/2 cup vegetable oil
2 teaspoons vanilla extract
1 tablespoon apple cider vinegar
For the coconut-pecan filling:
1 cup full-fat coconut milk
1 cup brown sugar
1/4 cup vegan butter
1 teaspoon vanilla extract
2 cups shredded coconut
1 1/2 cups chopped pecans
For the chocolate ganache:
1 cup vegan chocolate chips
1/2 cup almond milk (or any other plant-based milk)
Instructions:
Preheat your oven to 350°F (175°C). Grease two 9-inch round cake pans and line the bottoms with parchment paper.
In a large mixing bowl, whisk together the flour, sugar, cocoa powder, baking powder, baking soda, and salt.
Add the almond milk, vegetable oil, vanilla extract, and apple cider vinegar to the dry ingredients. Mix well until the batter is smooth and well combined.
Divide the batter equally between the prepared cake pans. Smooth out the tops with a spatula.
Bake in the preheated oven for about 25-30 minutes, or until a toothpick inserted into the center of the cakes comes out clean. Remove from the oven and let the cakes cool in the pans for 10 minutes. Then transfer them to a wire rack to cool completely.
While the cakes are cooling, prepare the coconut-pecan filling. In a saucepan, combine the coconut milk, brown sugar, vegan butter, and vanilla extract. Cook over medium heat, stirring constantly, until the mixture thickens and comes to a gentle boil.
Remove the saucepan from heat and stir in the shredded coconut and chopped pecans. Let the filling cool completely.
Once the cakes and filling are completely cooled, spread a generous amount of the coconut-pecan filling on top of one cake layer. Place the second cake layer on top, and spread the remaining filling over the top.
To make the chocolate ganache, heat the almond milk in a small saucepan until it begins to simmer. Remove from heat and stir in the chocolate chips until melted and smooth.
Pour the chocolate ganache over the top of the cake, allowing it to drip down the sides.
Place the cake in the refrigerator for about 30 minutes to allow the ganache to set.
Once the ganache has set, remove the cake from the refrigerator and serve.