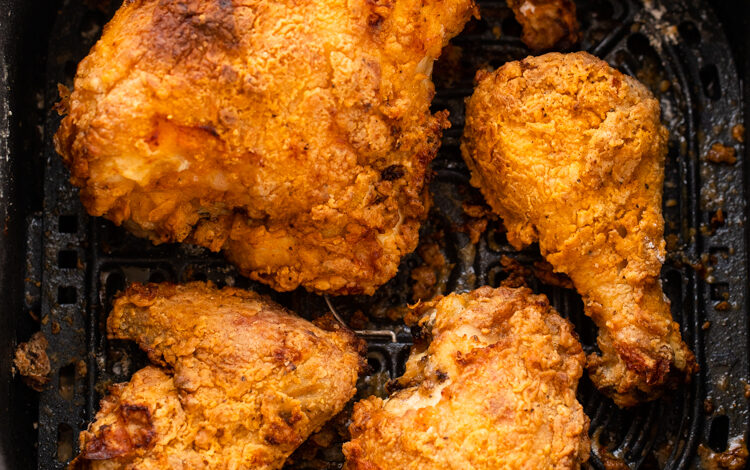 Ingredients
For the marinade:
▢2 lb. bone-in skin-on chicken pieces, mix of cuts
▢ 1 cup buttermilk,
▢¼ cup hot sauce
▢1 teaspoon EACH paprika, garlic powder, black pepper, salt
For the breading:
▢1 cup flour
▢ ½ cup corn starch, or replace with more flour
▢1 teaspoon EACH paprika, garlic powder, onion powder, salt, pepper
▢Oil for spraying chicken, Canola, Peanut, Vegetable, or olive oil
Instructions
Combine buttermilk, hot sauce, and spices for the marinade in a large bowl. Add chicken and mix to combine. Cover and marinate up to 24 hours or use right away.
Pre-heat air-fryer to 375F.
In a medium shallow bowl, whisk the flour, cornstarch, and spices for breading. Drizzle 2-3 tablespoons of the buttermilk batter into the flour mixture and mix it through with a fork.
Working with 1 piece at a time, dredge chicken the flour mixture and press flour on the top chicken to form a thick crust. Transfer chicken to a Pre-heated air fryer in a single layer without overlapping. You may need to work in batches if needed.
Generously spray chicken with oil or brush it down with oil. You will need to apply a generous layer enough to coat ALL the breading or the flour will not cook and create a crispy crust. If at any point during the cooking you still see raw flour, go ahead and brush it with a little more oil. The more oil you apple the crunchier the crust will be.
Set the Air-fryer to 30 minutes and start. After 15 minutes, flip the chicken and lightly spray the other side with oil. Continue cooking for 10 minutes or until the chicken is golden and the internal temperature reaches 165°. Repeat with the remaining chicken as needed.
Notes
Diy Buttermilk: To make your own buttermilk, combine 1 cup milk and 1 tablespoon white vinager or lemon juice. Stir and rest for 5 mintues or until it begins to curdle. Use in recipe as directed.
Nutrition
Serving: 11/4th the recipe, Calories: 592kcal, Carbohydrates: 20g, Protein: 45g, Fat: 35g, Saturated Fat: 10g, Cholesterol: 173mg, Sodium: 588mg, Potassium: 530mg, Fiber: 1g, Sugar: 2g, Vitamin A: 884IU, Vitamin C: 15mg, Calcium: 59mg, Iron: 3mg