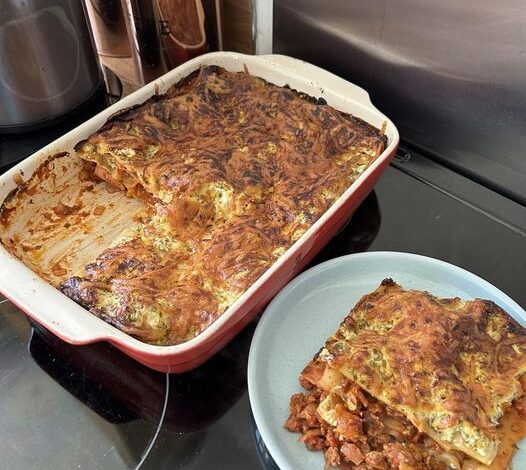 Syn free, tasty and satisfying lasagna! Yummilicious quick and easy to make!
PREP TIME10 mins
COOK TIME 40 mins
TOTAL TIME 50 mins
COURSE Main Course
CUISINE American
SERVINGS 6
INGREDIENTS
750 g Lean Beef Mince
1/2 pack Cherry Tomatoes (Halved)
5 regular tomatoes (chopped)
1 tin chopped tomatoes
500 g Fat Free Fromage Frais
1 tsp garlic powder
1 tbsp dried mixed herbs
2 tbsp tomato puree
2 cubes beef stock
lasagne sheets
240 g grated mozzarella/ 180g grated cheddar
2 large Eggs
1-1 tbsp salt & pepper (to taste)
INSTRUCTIONS
Brown the mince over a high heat and then add the tomatoes and cherry tomatoes and fry until the tomatoes begin to reduce.
Add the tinned tomatoes and beef stock and garlic powder and reduce the heat, simmer for 10 minutes and then add the tomato puree. Stir and leave to simmer.
Pour the fromage frais into a bowl and crack in the eggs, and add salt and pepper. Whisk with a fork until completely combined. Take the mince off the heat.
Spoon one layer of mince into the bottom of a deep dish lasagne tray, and then add a layer of lasagne sheets and a layer of the fromage frais mixture.
Repeat this and then top the last layer of fromage frais with the grated cheese.
Bake in the oven for about 25 minutes, or unil the cheese has turned golden brown and the lasagne sheets are cooked.
NOTES
This recipe is syn free on Slimming World when the cheese is used as your HexA option and the lasagne serves 6. Nutritional Info:Calories: 480 cal Carbohydrates: 14 g Fat: 30 g Sodium: 371 g Cholesterol: 181 g Protein: 37 g Fiber: 2 g