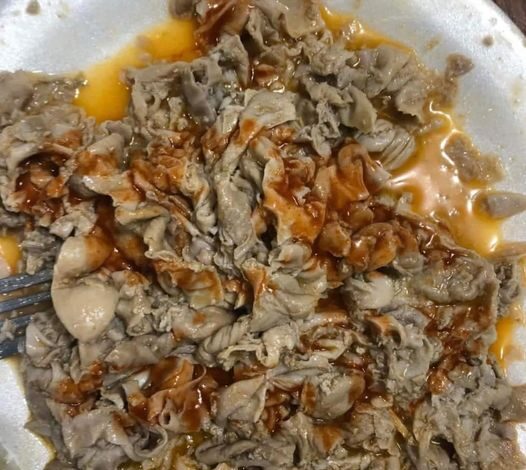 Ingredients for Stovetop Chitterlings
So, what do you need to make chitlins delicious? I keep my chitterlings recipe simple. As I said before, we like spicy in this household, but if that's not your vibe, feel free to omit the spicy ingredients! As always, you can find a complete list of ingredients and measurements in the recipe card below.
Here's what you need to make tender, tasty stovetop chitterlings:
Pre-Cleaned Chitterlings: I promise you that buying pre-cleaned will make your life so much easier! For this recipe, I only use about 4 lbs. of chitterlings.
Vegetables: I use onions and bell pepper in this recipe. You can use yellow onion, white onions, or any color bell peppers you have on hand.
Seasonings & Spices: this is where you can customize your chitterlings recipe to your liking! For mine, I keep it simple with red pepper flakes for spice. I also add a bit of fresh minced garlic.
Jalapeno Peppers: my mother loved jalapenos in her chitlins, so I include some chopped jalapenos in my recipes.
Red Wine Vinegar: helps mellow out the chitterlings during cooking.
Chicken Broth: I prefer cooking my chitterlings in chicken broth and water for added flavor.
Water, Apple Cider Vinegar, & Potatoes: the three things you need to clean the chitlins properly.
How to Cook Chitterlings on the Stovetop
Now that your chitterlings are good and clean, it's time to get into cooking! From here on out, the process is pretty dang easy. Here's a quick overview of how to cook chitterlings on the stovetop.
Add the cleaned and prepped chitterlings to a large pot. At this time, I also use kitchen scissors to cut the chitlins into small pieces—about 1–2-inch pieces.
Add the vegetables and seasonings. Ideally, you will have chopped and prepped your veggies while the chitlins are soaking. We use onion, green bell pepper, jalapeno peppers, minced garlic, and red pepper flakes.
Next, add the liquids—red wine vinegar, chicken broth, and water. I use one part water to one part chicken broth. You'll want to make sure you're using enough water and broth just to cover the chitterlings in the pot.
Cover the pot and bring it to a boil over high heat. Once it's boiling, turn it down to medium, medium-high heat to maintain a constant simmer. Let the chitterlings cook for about 3 and ½ hours until tender. They should easily pull apart when pulled with a fork.
Now, my recipe might be a bit different than your family's recipe—and that's perfectly fine! The beauty of this chitterlings recipe is that it can be customized to your liking. Now, do I think the Cousin Rosie way is the best way? You know I do! But it's definitely not the only way. Here are some popular chitlins recipe variations you might like to try.