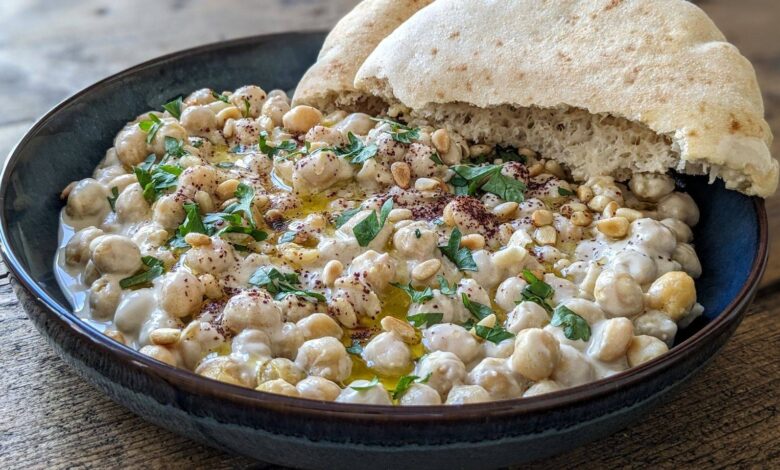 MUSABAHA 
Ingredients
▢2 cans chickpeas rinsed and drained
▢2 lemons juiced
▢⅔ cup drippy tahini
▢½ teaspoon baking soda
▢½ teaspoon salt
▢2 cloves garlic
▢1 teaspoon ground cumin
▢⅓ cup ice cold water
▢1 tablespoon chopped parsley leaves for garnish
Garlic oil
▢¼ cup olive oil
▢2-3 cloves garlic
▢¼ teaspoon whole coriander seeds
Instructions
Boil chickpeas in water with ½ teaspoon baking soda for 20-30 minutes, until soft. Drain.
Reserve 1.5 cup whole chickpeas and set aside.
In the bowl of a food processor place the remaining cooked chickpeas, lemon juice, crushed garlic cloves, tahini, salt and cumin. Blend until smooth.
While the food processor is going pour in the ice cold water in a slow stream.
Transfer the dip into a bowl and stir in the reserved whole chickpeas.
Serve drizzled with warm garlic oil (recipe below), chopped fresh parsley leaves and more whole chickpeas.
Warm Garlic Oil
Place olive oil in a small saucepan together with fresh garlic slices.
Bring the oil to a low simmer and cook for a couple minutes watching the garlic. It's supposed to brown but it's easy to burn so make sure the heat is very low.
Once the garlic is golden brown add whole coriander seeds, lemon peel and red pepper flakes (if using) and cook for another 30-60 seconds or so, just to toast.
Take the oil off the heat and let cool slightly before topping your hummus.
Notes
If you're not a big fresh garlic taste lover, start with 1 clove of garlic instead of 2-3.
If you don't make warm garlic oil, drizzle the hummus with good quality extra virgin olive oil instead.
If you want chunkier texture, reserve more whole chickpeas, 2 cups or so.
The cooked chickpeas should be very soft. Mushy and peeling is fine! Nutritional information below is approximate and includes musabaha hummus only (without garnishes).
Nutrition
Calories: 253kcal | Carbohydrates: 10g | Protein: 5g | Fat: 23g | Saturated Fat: 3g | Polyunsaturated Fat: 7g | Monounsaturated Fat: 12g | Sodium: 297mg | Potassium: 192mg | Fiber: 2g | Sugar: 1g | Vitamin A: 86IU | Vitamin C: 22mg | Calcium: 56mg | Iron: 2mg