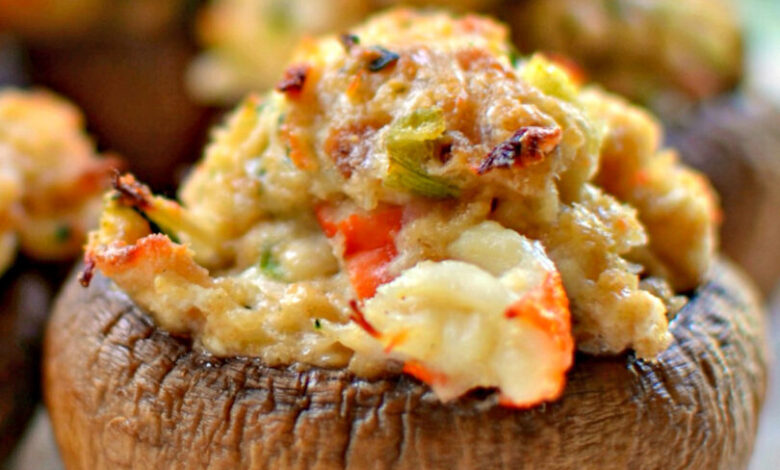 INGREDIENTS
12 medium button mushrooms or cremini mushrooms cleaned with stems removed and discarded
Olive oil spray
1 box (8 ounce) cream cheese softened
1/2 cup fresh bread crumbs or panko breadcrumbs
2 garlic cloves minced
1/2 tablespoon Worcestershire sauce
1/2 cup finely chopped green onions
1/2 cup freshly grated Parmesan cheese
2–3 tablespoons fresh chopped Italian parsley
1 cup cooked shelled crab finely chopped (I use King Crab)
salt and pepper to taste
DIRECTIONS
Preheat oven to 375 degrees.
Lightly spray mushrooms with olive oil spray and arrange mushrooms cap side down on a baking sheet or baking dish. In a large bowl, stir the cream cheese, bread crumbs, garlic, Worcestershire sauce, green onions, Parmesan, parsley, and crab meat. Season with salt and pepper to taste.
Scoop about 1 1/2 tablespoons of the cream cheese mixture into each mushroom. Bake for 20 minutes. Turn the broiler on at the last minute of cooking to brown the tops lightly. Stay close by, as I have always found broilers unpredictable.
NOTES
Storage Instructions: Store leftovers in an airtight container in the fridge for up to 48 hours. Reheat in the microwave for short intervals at reduced power.
You can add 1/4 teaspoon cayenne pepper or 1/4 teaspoon crushed red pepper for a little kick.
I got this hint from a reader. Precook your mushrooms for about 2-3 minutes. Turn them upside down on a rack and allow them to drain so they don't drip when you bite into them.
If you like things to pack a little punch, then add a little bit of cayenne pepper or crushed red pepper.
I use the great big button mushrooms, but for a party, you certainly could use the smaller mushrooms, and this recipe would go further. Just remember to reduce your cooking time by a few minutes for the smaller mushrooms.
Use cooked crab meat and chop it up pretty fine.
Freshly grated Parmesan cheese is a must. It has much better flavor than the stuff in the canister, so use it.
Fresh bread crumbs are amazing in this recipe. You can always use croutons and crush them in a bag or a food processor. Most croutons have fewer preservatives and artificial ingredients than processed bread crumbs.