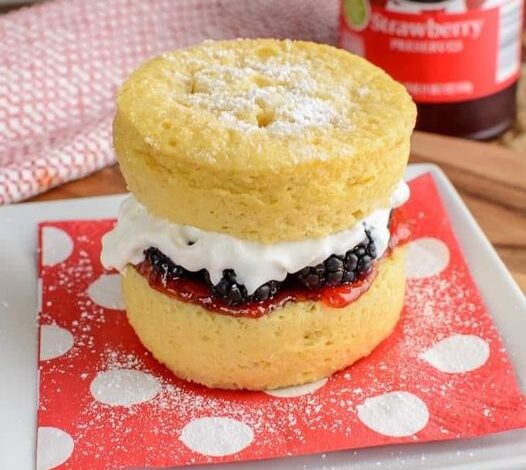 This recipe is gluten-free, vegetarian and Weight Watchers friendly WW Smart Points – 8 Gluten Free – use gluten-free oats
PREP TIME:10 minutes
COOK TIME:1 minute 40 seconds
TOTAL TIME:11 minutes 40 seconds
Ingredients:
40g of porridge oats
3/4 tsp of baking powder
1.5 tbs of sukrin (or another sweetener of choice)
2 level tbs of plain Greek Yoghurt
1/2 tsp of vanilla extract
1 large egg
FOR THE FILLING:
1 tbs of raspberry or strawberry jam
fresh berries of choice
2 tbs of light cream
a teeny dusting of icing sugar negligible.
Instructions:
Add the oats to a blender and blend till fine.
Add to a mug
Stir in the baking powder, and sukrin.
Add the yoghurt, vanilla and egg and stir till all is combined. (make sure all ingredients are mixed and that no dry oats left as it won't cook properly)
Place in the microwave and microwave on full power for 1 minute and 40 secs.
Remove from microwave and allow to cool.
Carefully remove from mug, slice in half, add jam, fresh berries and 2 tbs of light cream.
Dust with a teeny dusting of icing sugar.
Dig in and enjoy!!
Notes:
WW Points and other Slimming or Weight Loss programs – due to plans regularly changing and updating, we recommend calculating with the official tools you get as a member to those plans to ensure accuracy of values.
Nutritional Info:
Serving Size
1 serving
Amount Per Serving
Calories311TotalFat9.2gSaturatedFat3.2gCholesterol186mgSodium455mgCarbohydrates40.7Fiber 3.6g Sugar14.9gProtein15.5g