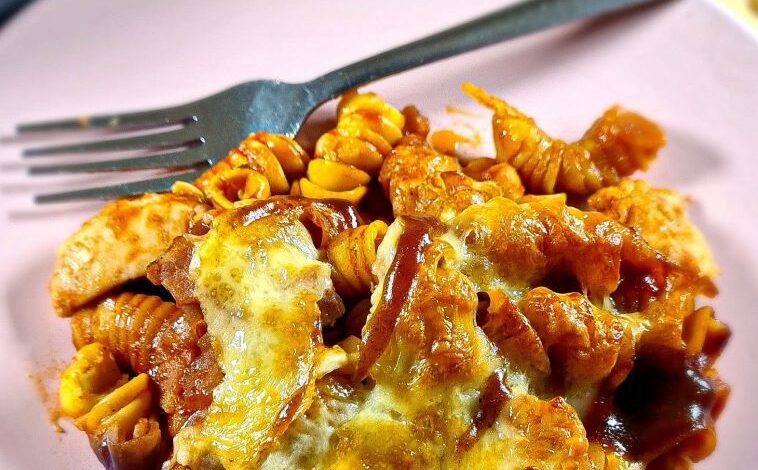 This is a delicious, lower-calorie, slimming friendly Hunters Chicken Pasta Bake that the whole family will love. A perfect Slimming World-Friendly Chicken Recipe
If you love hunters chicken, you're going to love this Hunter's Chicken Pasta Bake!
I've said it before and I'll say it again. BBQ sauce, cheese, and pasta are an amazing combination! Proper comfort food vibes. There are so many delicious dishes you can create from this winning combo.
I have seen a Hunters Chicken Lasagne, but I think this is one of the best twists you can find.
Hunters Chicken is a dish that I have always loved, and ever since I discovered how to create my BBQ sauce recipe that is sugar-free and slimming friendly, I love to create new dishes to use it in.
Prep Time 10mint
Cook Time 25mint
Total Time 35mint
Ingredients
2 large skinless chicken breasts diced into small chunks
5 tbsp Worcestershire sauce
6 bacon medallions all fat removed
1 onion diced
1 red pepper finely sliced
1/2 small tin sweetcorn
1 tsp mustard powder
500 g carton of tomato passata
3 tbsp balsamic vinegar
2 cloves of garlic crushed
3 tbsp sweetener
Salt and freshly ground black pepper
1 tsp smoked paprika
1/4 pint coke zero
250 g dried pasta of your choice
120 g light cheese
low-calorie cooking spray
Instructions
Preheat the oven to 180 degrees.
In a saucepan and the balsamic vinegar, coke zero and Worcestershire sauce. Bring to the boil and then leave to reduce.
Mix in passata, mustard powder, garlic, smoked paprika, sweetener, and seasoning. Bring to the boil and then allow to simmer for 10-15 mins until it has thickened and reduced.
Spray a frying pan with low-calorie cooking spray, and fry off the bacon, onions, and pepper.
Add the diced chicken breast to the pan. I like to add an extra pinch of smoked paprika at this stage to give the chicken an extra kick.
Par-boil the dried pasta for 5 minutes.
Mix the cooked chicken, bacon and veg mix with the BBQ sauce and pasta, but set some BBQ sauce aside to go on top of the cheese.
Add to a shallow pasta bake tray, and mix well. Top with the cheese.
Bake for 10 to 15 minutes, or until the pasta is cooked through and the cheese is bubbling.
Notes
NUTRITION FACTS Calories
421.97 Fat (grams)
11.83 g Sat. Fat (grams)
4.22 g Carbs (grams)
40.37 g Fiber (grams)
4.21 g Net carbs
36.16 Sugar (grams)
11.62 g Protein (grams)
37.88 g Sodium (milligrams)
895.81 mg Cholesterol (grams)
74.38 g