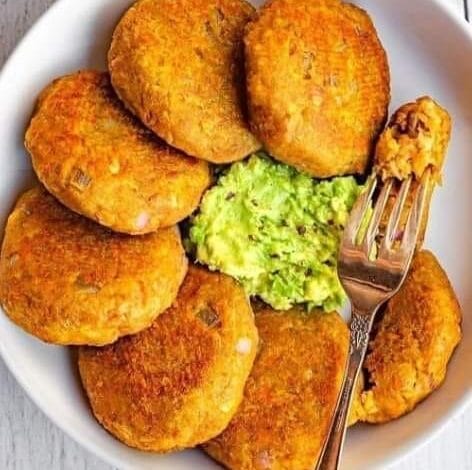 Lentil potato & carrot patties
Ingredients:
1 cup green lentils, cooked
1 large potato, peeled and cubed
1 large carrot, peeled and grated
1 small onion, diced
2 garlic cloves, minced
1 tsp ground cumin
1 tsp smoked paprika
Salt and pepper, to taste
1/4 cup all-purpose flour
2 tbsp olive oil, for frying
Instructions:
Cook the lentils according to package instructions and set aside.
Boil the potato until soft, then mash it in a large mixing bowl.
Add the cooked lentils, grated carrot, diced onion, minced garlic, cumin, smoked paprika, salt, and pepper to the mixing bowl. Mix well.
Add the all-purpose flour to the mixture and mix until it forms a thick batter.
Heat the olive oil in a large frying pan over medium-high heat.
Use a spoon to scoop out the batter and form into patties with your hands. Place the patties onto the hot pan.
Cook the patties for about 3-4 minutes on each side, or until they are golden brown and crispy.
Once the patties are cooked, remove them from the pan and place them on a paper towel-lined plate to drain any excess oil.
Serve the patties hot, topped with your favorite sauce or condiment.
Enjoy your delicious Vegan Lentil Potato & Carrot Patties!