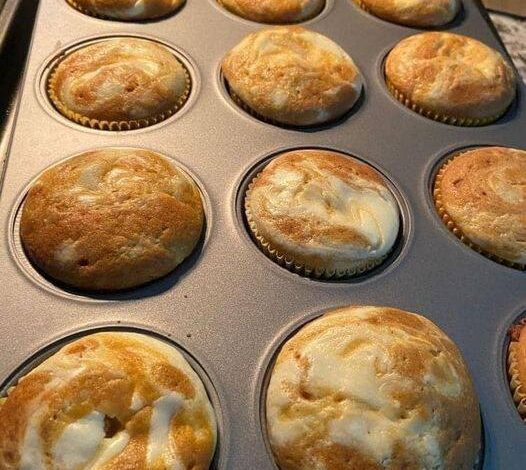 Ingredients:
For the Muffin Batter:
2 cups almond flour
1/2 cup granulated erythritol or other keto-friendly sweetener
2 teaspoons baking powder
1 teaspoon ground cinnamon
1/2 teaspoon ground nutmeg
1/4 teaspoon ground ginger
1/4 teaspoon salt
1/2 cup pumpkin puree
3 large eggs
1/4 cup coconut oil or butter, melted
1 teaspoon vanilla extract
For the Cream Cheese Filling:
4 oz cream cheese, softened
2 tablespoons powdered erythritol or other keto-friendly powdered sweetener
1 teaspoon vanilla extract
Instructions:
Preheat your oven to 350°F (175°C). Line a muffin tin with paper liners.
In a large mixing bowl, whisk together the almond flour, granulated erythritol, baking powder, ground cinnamon, ground nutmeg, ground ginger, and salt.
In another bowl, combine the pumpkin puree, eggs, melted coconut oil (or butter), and vanilla extract. Mix until well combined.
Gradually add the wet ingredients to the dry ingredients, stirring until just combined. Be careful not to overmix.
In a separate bowl, prepare the cream cheese filling. Beat the softened cream cheese until smooth. Add the powdered erythritol and vanilla extract, and mix until creamy and well incorporated.
Fill each muffin liner with a spoonful of the muffin batter, creating a thin layer on the bottom.
Place a dollop of the cream cheese filling on top of the batter in each muffin liner.
Divide the remaining muffin batter evenly among the muffin cups, covering the cream cheese filling.
Use a toothpick or skewer to gently swirl the cream cheese filling into the muffin batter.
Bake in the preheated oven for 18-22 minutes, or until a toothpick inserted into the center of a muffin comes out clean.
Once baked, remove the muffins from the oven and let them cool in the tin for a few minutes before transferring them to a wire rack to cool completely.
Nutrition Facts (per muffin, based on 12 servings):
Calories: ~220
Total Fat: 20g
Saturated Fat: 9g
Total Carbohydrates: 6g
Dietary Fiber: 3g
Sugars: 1g
Protein: 6g