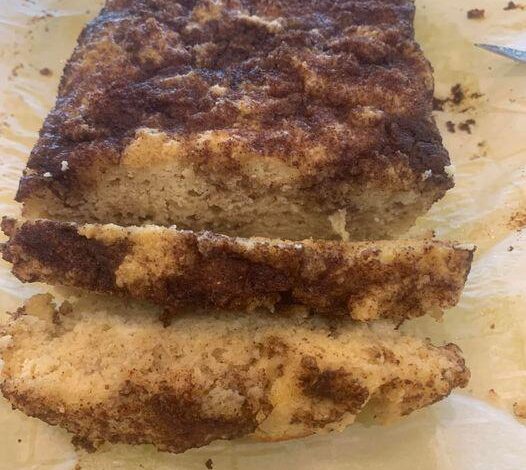 Ingredients
1.25 cups Almond Flour
¼ cup Coconut Flour
1 tsp Baking Powder
2 oz Cream Cheese softened
½ cup Almond Milk
3 Eggs
½ cup Butter melted
1/3 cup Erythritol
1 tsp Vanilla Extract
1/4 cup Brown Swerve Sweetener
2 tsp Cinnamon Powder
Directions
Preheat oven to 350F and line a 9"x5" loaf pan with parchment.
Whisk together the Brown Swerve Sweetener and cinnamon in a bowl. Set aside.
Whisk together almond, coconut flour and baking powder in a bowl.
In a separate bowl, beat together the eggs, cream cheese, almond milk, melted butter, erythritol, and vanilla.
Blend the wet mixture into the dry ingredients.
Pour half of the batter into the prepared pan.
Sprinkle half of the cinnamon mixture on top.
Pour in remaining batter and top with remaining cinnamon mixture.
Swirl a knife into the batter.
Bake for 45-60 minutes. (I did 50 mins and the top got a little burnt, but was still delicious..
Enjoy