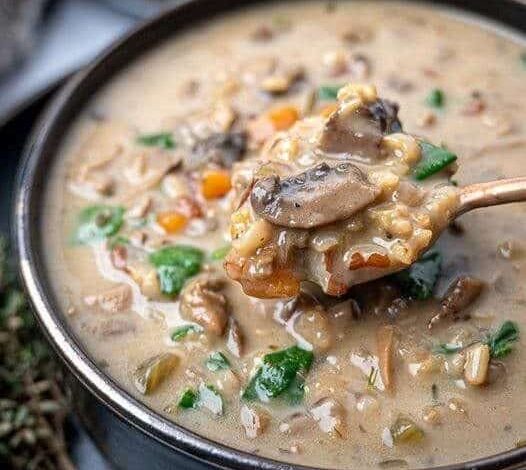 Ingredients
2 tablespoon vegan butter
1 onion, diced
4 garlic cloves
400 g (1 lb) mushrooms (closed cup, Forestiere or chestnut)
30 g (1 ounce) porcini mushrooms, rehydrated (reserve the water)
1 medium carrot
2-3 celery sticks
Fresh thyme, 2 sprigs, minced
Fresh rosemary, 1 sprig, minced
2 bay leaves
150 g (1 cup) wild rice mix
1 liter (4 cups) vegetable stock
200 ml (1 cup) coconut milk
Baby spinach, 2 handfuls
Instructions
1. Set your pressure cooker to Saute function and add the butter. When it's melted, add the onions and cook for 1-2 minutes until they soften.

2. Add the mixed mushrooms and garlic and saute for 4-5 minutes until they reduce in size. Add the rehydrated porcini mushrooms and continue to cook for another minute.
Next, add the thyme, rosemary, and bay leaf to the pot and cook for 30 seconds until fragrant. Add the rice and cook for 1-2 minutes, stirring often. Deglaze with some of the water you used to rehydrate the porcini mushrooms in.

3. Add the carrots and celery to the pot together with the vegetable stock. Give it a good stir and season with salt and freshly ground black pepper.

4. Set the pressure cooker to High for 25 minutes and quick release.

5. Stir in the coconut milk and add the spinach to the pot. Close the lid for 1-2 minutes to allow the spinach to wilt. Season to taste and serve with crusty bread and topped with some vegan parmesan if you like.