Food & Recipes
Grilled Butterflied Chicken Drumsticks with Alabama White Sauce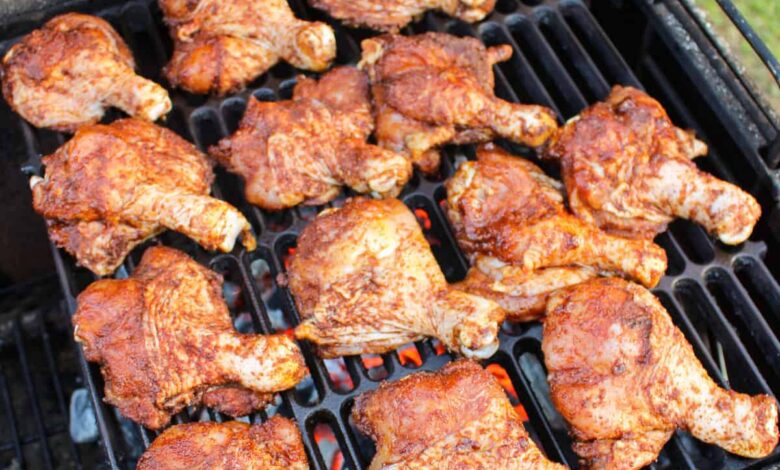 These Grilled Butterflied Chicken Drumsticks with Alabama White Sauce are a simple and quick way to cook chicken. Perfect for Memorial Day!
PREP TIME:30MINUTES MINUTES
COOK TIME:45MINUTES MINUTES
TOTAL TIME:1HOUR HOUR 15MINUTES MINUTES
COURSE:MAIN COURSE
CUISINE:AMERICAN
SERVINGS:4 PEOPLE
INGREDIENTS 
CHICKEN:
▢2-3 lbs Chicken Drumsticks
▢2 tbsp Canola Oil
BBQ SEASONING:
▢2 tbsp Brown Sugar
▢1.5 tbsp Kosher Salt
▢1 tbsp Garlic Powder
▢1 tbsp Smoked Paprika
▢2 tsp Black Pepper
▢1.5 tsp Onion Powder
▢1.5 tsp Chile Powder
▢1 tsp Cinnamon
▢½ tsp Cayenne
ALABAMA WHITE SAUCE:
▢2 cups Mayonnaise
▢½ cup Apple Cider Vinegar
▢¼ cup Dijon Mustard
▢⅛ cup Brown Sugar
▢1.5 tbsp Prepared Horseradish
▢1 tbsp Hot Sauce
▢2 tsp Cayenne Powder
▢2 tsp Honey
INSTRUCTIONS
Begin prepping your chicken drumsticks. Using a really sharp knife, slice one area on the drumstick from top to bottom all the way down to the bone. Pull apart the two sides of the slice and begin separating the meat from the bone so that the chicken drumstick is flayed open and flat. Make sure to leave some part of the meat, on the opposite side of the first cut, still connected. Repeat this for all of your drumsticks.
In a bowl, mix all the ingredients for the BBQ seasoning. Lather your chicken with oil then generously season them. Mix together thoroughly, cover and place in the fridge to marinate for at least 1 hour.
Preheat a medium high heat fire (around 375F) for two zone cooking.
Mix all the ingredients for your Alabama White Sauce and set to the side.
Once the fire is ready, place your drumsticks over the direct heat and cook them for 2-3 minutes per side until they have been charred well. Once they have developed a good crust, pull them over the cooler side of the grill and cook until they reach 170F internal (about 10-15 minutes). Once done, pull them off and let them rest for 1-2 minutes.
Right before serving, dip each drumstick right into the Alabama White Sauce and enjoy!