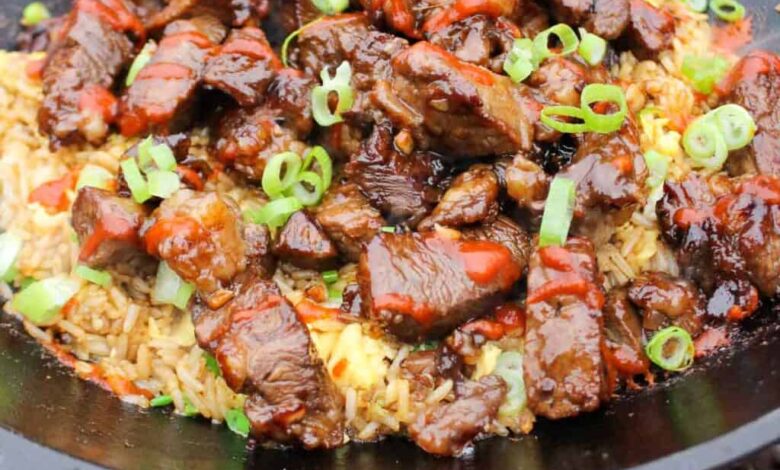 Garlic Teriyaki Steak Bites for a quick and delicious meal.
PREP TIME:30MINUTES MINUTES
COOK TIME:30MINUTES MINUTES
MARINATE:4HOURS HOURS
TOTAL TIME:5HOURS HOURS
COURSE:MAIN COURSE
CUISINE:AMERICAN
SERVINGS:4 PEOPLE
INGREDIENTS 
STEAK + MARINADE:
▢2 Ribeye Steaks
▢1 cup Teriyaki Sauce
▢2 tbsp Minced Garlic
▢2 tbsp Brown Sugar
▢2 tbsp Rice Wine Vinegar
▢1 tbsp Sriracha Sauce
▢1 tsp Sesame Seed Oil
FRIED RICE:
▢2 cups Cooked Rice
▢4 Whole Eggs whipped
▢3-4 stalks Scallions sliced & separate whites & greens
▢2.5 tbsp Soy Sauce
▢1.5 tbsp Minced Garlic
▢1 tbsp Minced Ginger
▢Sriracha Sauce for garnish
INSTRUCTIONS
Begin by slicing up your steaks into cubes and placing in a food safe bowl. Add in the teriyaki, minced garlic, brown sugar, rice wine vinegar and sesame seed oil. Mix together thoroughly, then cover and place in the fridge for at least 4 hours but ideally overnight to marinate.
Preheat your grill to high heat (about 400F). Add a plancha or cast iron skillet to the grill with oil to preheat 2 minutes before cooking.
Pull out your steak and drain any excess liquid from the marinade. Add your steak to the skillet to cook for 4-5 minutes or until 125F internal making sure to flip and move around frequently. Add your steaks in batches if needed so that you do not overcrowd the skillet. When the steak is done, pull it off and keep warm.
Add a wok to the grill or clean off your previously used skillet. Add some oil and add your whipped eggs. Cook slowly until done, then pull off and keep warm. Next, fry your minced garlic, ginger and white scallions. Cook for 1.5 minutes until golden brown, then add your cooked rice and soy sauce. Stir frequently for 2 minutes. Finally, add your eggs and green scallions back to the wok and mix together.
Top the fried rice with the cooked steak, sriracha and green scallions. Serve and enjoy!