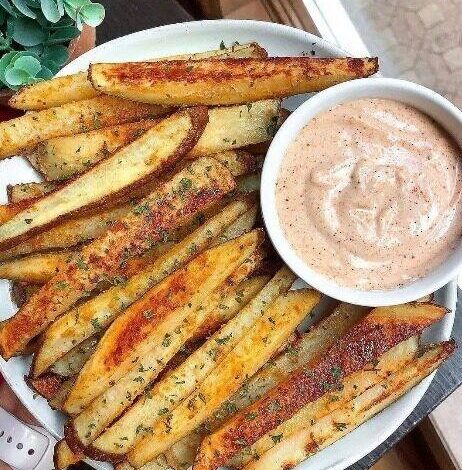 GARLIC FRIES + VEGAN CHIPOTLE AIOLI
Garlic Fries:
2 large russet potatoes
2 tbsp olive oil
1/4 cup nutritional yeast (can sub Parmesan cheese)
1 tsp garlic
1 tsp paprika
1/2 tsp salt
1/2 tsp onion powder
1/2 tsp parsley
Sprinkle of pepper
Cut the potatoes into fries, coat with the oil, then add the spices. Make sure the fries are well coated.
Baked at 425F for 40 mins, flipped halfway through.
Vegan Chipotle aioli:
1/2 cup vegan mayo
1 chipotle pepper (from a can)
1 tsp Chipotle sauce (from the can)
2 tbsp unsweetened almond milk
1/2 lime juice
1/2 tsp chili powder
1/2 tsp garlic powder
1/2 tsp smoked paprika
Sprinkle of salt and pepper
Blend together!
Enjoy!