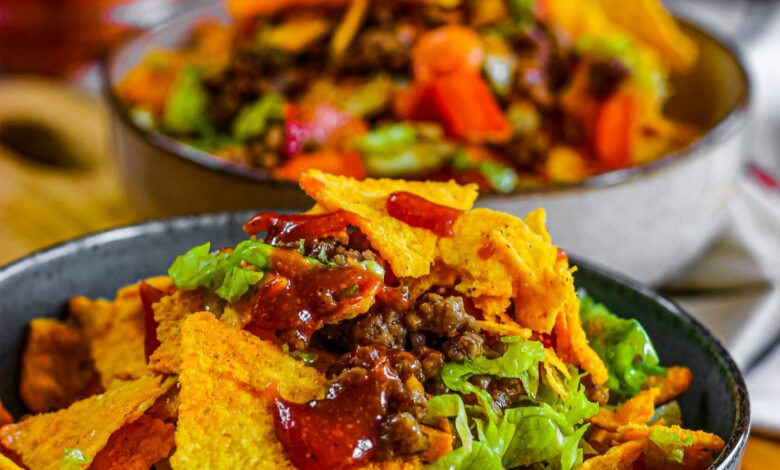 DORITO TACO SALAD
yield: 4
prep time: 15 MINUTES
cook time: 10 MINUTES
total time: 25 MINUTES
This Taco Salad made with Doritos will put a whole new spin on Taco Tuesday for you and your family! 
INGREDIENTS
1 pound Ground Beef, lean
2 tbsp Taco Seasoning
1 tbsp Olive Oil
1 Tomato, large, diced
1 head Iceberg lettuce, shredded or chopped
2 cups Doritos Chips, Nacho Cheese flavor
1 cup Catalina Dressing
Garnish can include guacamole, salsa, sour cream
INSTRUCTIONS
NOTES
Is there a certain lettuce I should use?
Most often families use iceberg for the shredded lettuce on tacos. I am a firm believer in mixed greens, I actually prefer them. Iceberg lettuce is fine, but I like a little more oomph to my greens. Feel free to use the lettuce or types of lettuce that you like.
NUTRITION INFORMATION
Yield4Serving Size1Amount Per ServingCalories1115Total Fat63gSaturated Fat14gTrans Fat5gUnsaturated Fat43gCholesterol106mgSodium2037mgCarbohydrates93gFiber8gSugar22gProtein43g