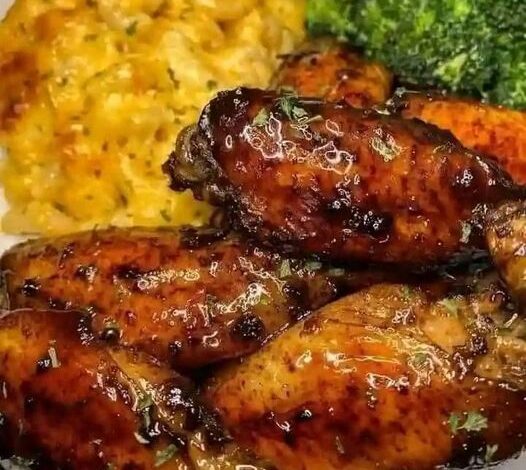 Ingredients :
30 chicken wings
2 tablespoons olive oil
1 teaspoon salt
1/4 teaspoon black pepper
1 teaspoon smoked paprika
1 teaspoon garlic powder
Honey garlic sauce:
1/4 cup soy sauce
2 tablespoons of mirin
1/2 cup honey
3/4 cup water
1 tablespoon sesame oil
4 garlic cloves (minced)
1 tablespoon minced ginger
1/4 teaspoon red pepper flakes (optional)
1 tablespoon cornstarch:
Sesame seeds
Directions :
wings:
Preheat oven 425 degres F .
Dry the wings with paper towels until they are completely dry.
Combine all rub ingredients in a large bowl, add wings and blend. Grease it with olive oil.
Lay aluminum foil on a baking tray and then put parchment paper on top, arrange chicken wings in a single layer, if necessary use two baking sheets. Bake for 35 minutes, flipping for 20 minutes on the other side.
Honey garlic sauce:
Meantime, mix sauce ingredients in small skillet on medium heat. Bring the mixture to a boil, reduce the heat and simmer for 10 minutes or until it thickens slightly, and the sauce coats the back of a spoon.
Mix the wings with the sauce:
We take wings from the oven, flip with the sauce and return to the oven for another 10 minutes, flipping after 5 minutes on the other side.
Roast it for a few minutes.
Let it cool for 10 minutes. When the sauce cools, it thickens. Turn the wings every few minutes to coat with the sauce until it thickens.
Enjoy