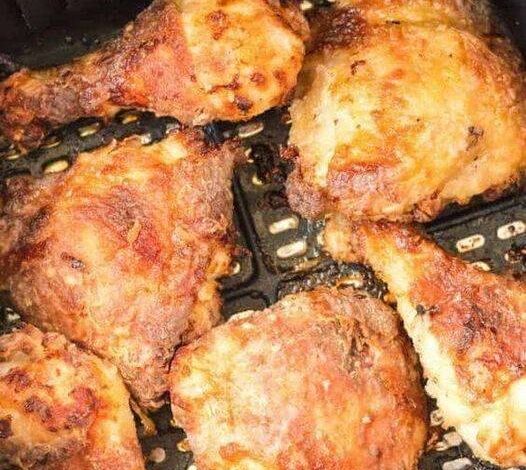 INGREDIENTS
▢3 Chicken Thighs Bone in, Skin on
▢3 Chicken Legs Bone in, Skin on
▢1 ¼ cup Buttermilk
▢1 ½ tsp Garlic Powder
▢1 tsp Paprika
▢1 tsp Black Pepper
▢¾ tsp Cayenne Pepper
▢1 ½ tsp Salt
▢½ Juice of 1/2 lemon
▢1 ¼ cup Flour for dredging
▢2 Tbsp Olive oil
▢Additional salt and pepper to taste
INSTRUCTIONS
Place chicken in a bowl or resealable plastic bag. Squeeze lemon over chicken.
Prepare marinade by mixing all ingredients except flour. Pour mixture over chicken and marinate for a minimum of 1 hour and a half to overnight.
Remove chicken from marinade and dredge in flour thoroughly coating each chicken piece.
Transfer dredged chicken to wire cooling rack to set for 15 minutes.
Pre-heat air fryer for 5 minutes.
While air fryer is preheating brush both sides of each chicken piece with olive oil. Lightly salt and pepper each chicken piece for extra flavor.
Place chicken in heated air fryer basket. Based on your setting cook for half the cooking time and then shake or flip. (We cooked our chicken at 380 degrees for 25 minutes flipping at 12 minutes.)
Once chicken is ready remove from fryer onto parchment paper lined serving dish and serve immediately! Enjoy!