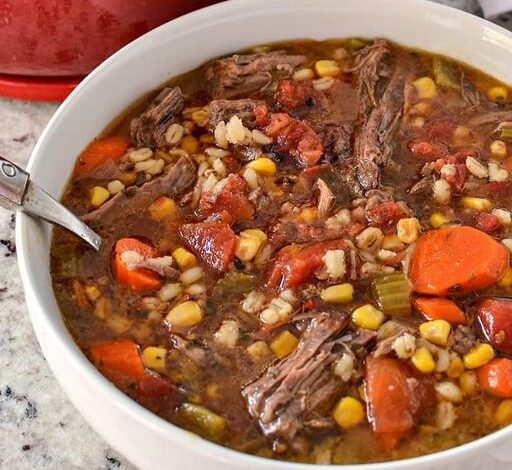 Beef Barley Soup
INGREDIENTS:
2 tablespoons vegetable oil
2–3 lbs chuck roast
2 carrots sliced in thin rounds
2 stalks celery sliced thin
1 medium onion chopped fine
3 cloves garlic crushed
1 tablespoon dried parsley
1 teaspoon dried oregano
1/4 teaspoon ground thyme
6 cups low sodium beef broth
1 can diced tomatoes (14.5 ounce)
1 bay leaf
2/3 cup medium Barley
1 can corn drained (14.5 ounce)
INSTRUCTIONS:
In dutch oven or large stockpot heat vegetable oil over medium heat. Add beef and sear. Remove beef to a plate.
Add carrots, celery, and onion and cook for 4-5 minutes. Add the garlic, parsley, oregano and thyme and cook for just 1 minute; stirring constantly.
Add the beef broth, diced tomatoes, bay leaf and beef back to the pot. Reduce heat and simmer for 1 1/2 hours or until the roast is fork tender. Add barley and corn; cover with lid for 30 minutes. Remove lid and continue simmering for 15 minutes.
Remove roast from the pot and trim cutting the beef away from any gristle or fat. Cut or shred into bite size chunks and return to the pot.