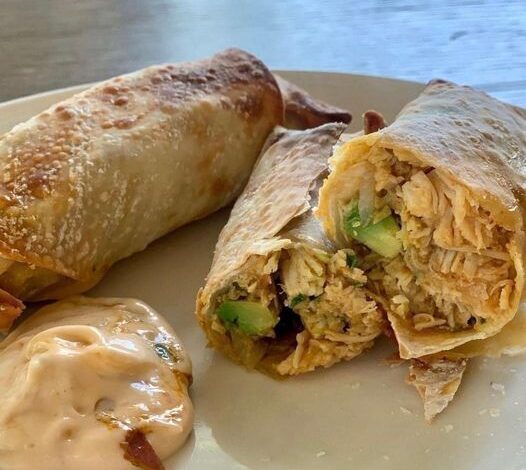 Ingredients:
1 cup cooked chicken breast, finely diced
2 cups coleslaw mix (shredded cabbage and carrots)
1/4 cup chopped green onions
2 cloves garlic, minced
1 tsp grated ginger
1 tbsp reduced-sodium soy sauce
1 tsp sesame oil
1/2 tsp Sriracha sauce (adjust to taste)
10 egg roll wrappers (look for lower-point options if available)
Cooking spray
Instructions:
In a large mixing bowl, combine the diced chicken breast, coleslaw mix, chopped green onions, minced garlic, grated ginger, soy sauce, sesame oil, and Sriracha sauce. Mix well to combine all the ingredients.
Lay out one egg roll wrapper with one corner pointing toward you (diamond shape).
Place about 2-3 tablespoons of the chicken and coleslaw mixture in the center of the wrapper.
Fold the bottom corner up over the filling, tucking it snugly.
Fold in the sides of the wrapper and then roll it up tightly.
Moisten the top corner with a little water and press to seal the egg roll.
Repeat this process for the remaining wrappers and filling.
Preheat your air fryer to 375°F (190°C).
Lightly spray the egg rolls with cooking spray on all sides.
Place the egg rolls in the preheated air fryer basket in a single layer, making sure they don't touch each other.
Cook for about 8-10 minutes, turning halfway through, or until they are golden brown and crispy.
Remove the egg rolls from the air fryer and let them cool slightly before serving.