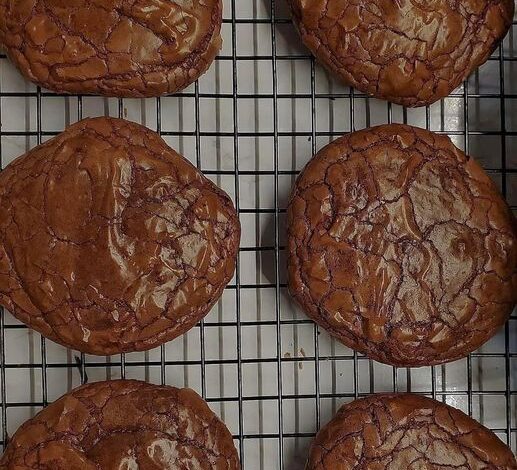 Ingredients:
1 cup all-purpose flour
1/2 cup unsweetened cocoa powder
1/2 tsp baking soda
1/4 tsp salt
2/3 cup granulated sugar (adjust to taste)
1/4 cup unsalted butter, softened
1/4 cup unsweetened applesauce (as a substitute for some of the butter)
1 large egg
1 tsp vanilla extract
1/2 cup mini chocolate chips
Cooking spray (for greasing)
Instructions:
Preheat your oven to 350°F (175°C). Line a baking sheet with parchment paper or lightly grease it with cooking spray.
In a mixing bowl, whisk together the flour, cocoa powder, baking soda, and salt.
In another bowl, beat together the softened butter, unsweetened applesauce, and granulated sugar until creamy.
Add the egg and vanilla extract to the wet mixture and beat until well combined.
Gradually add the dry ingredients to the wet ingredients and mix until a dough forms.
Stir in the mini chocolate chips.
Drop spoonfuls of cookie dough onto the prepared baking sheet, leaving some space between each cookie.
Flatten each cookie slightly with the back of a spoon or your fingertips.
Bake in the preheated oven for about 10-12 minutes, or until the edges are set but the centers are still soft. Baking times may vary, so keep an eye on them.
Remove the cookies from the oven and allow them to cool on the baking sheet for a few minutes before transferring them to a wire rack to cool completely.
Weight Watchers Points:
The Points value for these cookies will depend on the specific ingredients and serving size you use. Here are some guidelines to help you calculate the Points:
For reduced Points, consider using a sugar substitute like Stevia or Erythritol instead of granulated sugar.
Adjust the Points based on the number of cookies you make and your portion size.
You can also adjust the Points by using a lower-fat butter substitute if desired.