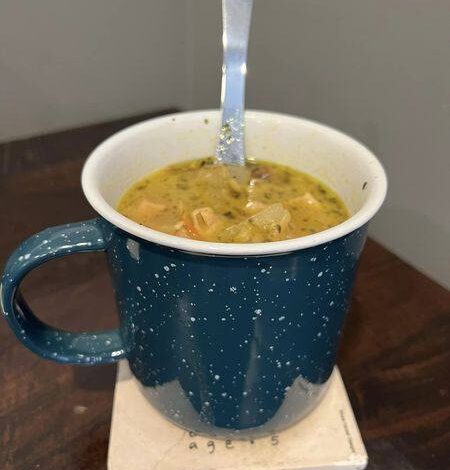 Ingredients:
1 bunch of garlic, roasted
1 onion, chopped
1 cup sliced mushrooms
1 lb raw chicken, chopped
1 bag shredded cabbage
1 giant pat of butter
Lemon juice to taste
4 cups chicken stock (low-sodium)
2 cups water
Salt and black pepper to taste
1 tablespoon chopped parsley
1 teaspoon dried thyme
Instructions:
Roast the garlic by cutting off the tops, drizzling with a little olive oil, and wrapping in foil. Roast in the oven until soft and golden.
In a large pot, combine the roasted garlic, chopped onion, sliced mushrooms, chopped raw chicken, shredded cabbage, and a giant pat of butter.
Stir-fry the ingredients until the chicken is cooked, and the vegetables are tender.
Once the chicken is cooked, add lemon juice to taste and continue to stir.
Pour in the chicken stock and water, ensuring it covers all the ingredients in the pot.
Season the soup with salt, black pepper, chopped parsley, and dried thyme. Stir well.
Bring the soup to a boil and let it simmer for about 15 minutes, allowing the flavors to meld.
Turn off the heat and let the soup cool slightly before serving.
Resist the urge to burn your tongue, and enjoy your Weight Watchers Garlic Soup!
WW Points (Approximate per Serving):
For a typical serving size (1 cup), it's 3 WW points