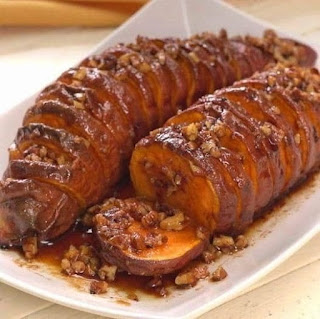 Ingredients
2 medium sweet potatoes
1 tablespoon vegetable oil
Salt and black pepper (to taste)
2 tablespoons butter (melted)
1 teaspoon ground cinnamon
¼ cup pecans (chopped)
¼ cup maple syrup
½ teaspoon pure vanilla extract
½ teaspoon kosher salt
Instructions
Preheat your oven to 425°F (218°C).
Place each sweet potato between two chopsticks. This ensures the knife doesn't cut through the potato entirely. Make ¼-inch slices along the potato's length, stopping when the knife hits the chopsticks.
Brush the sweet potatoes with vegetable oil, season with salt and pepper, and then place in a baking dish.
Bake the potatoes for 30-40 minutes, or until they're soft to touch.
Once baked, increase the oven temperature to 450°F (230°C).
In a bowl, mix melted butter, ground cinnamon, pecans, maple syrup, vanilla extract, and kosher salt.
Generously spoon this mixture over and between the potato slices, ensuring the pecan pieces nestle between each slice.
Return the potatoes to the oven and bake for another 8-10 minutes.
Once done, drizzle any leftover cooking liquid over the potatoes. Let them cool for a bit before serving.
These Hasselback sweet potatoes scream autumn! They not only resonate with the season but also complement other dishes that become household staples during this period.