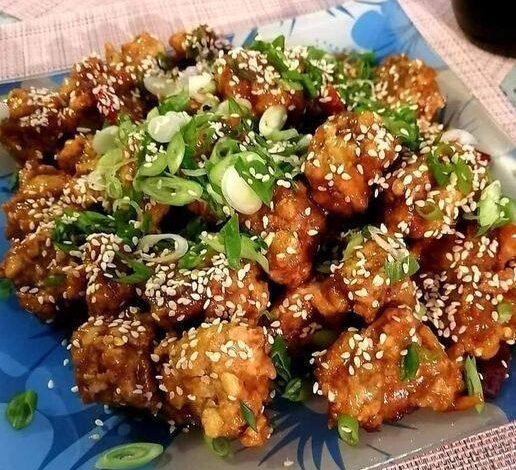 Orange Cauliflower
Ingredients
1 cup plain flour
1 tsp baking powder
salt + pepper
300g (10.6oz) shiitake mushrooms, sliced into bite-sized pieces
vegetable oil, we use rapeseed oil
4 portions of jasmine rice
2 spring onions, chopped
sesame seeds, for topping
For the sauce:
2 large oranges
1/2 thumb of fresh ginger, peeled + finely chopped
2 garlic cloves, peeled + finely chopped
4 tbsp dark soy sauce
4 tbsp caster sugar
1 tbsp rice wine vinegar
1 tbsp cornflour (cornstarch in the US)
Method
Combine the flour, baking powder, large pinches of salt and pepper and 1 cup of water in a large mixing bowl to create a batter.
Drop the shiitake mushroom pieces into the bowl and stir to coat them in the batter. Add a splash of water if the batter is too thick. Then leave the bowl to one side.
Grate enough zest from one of the oranges to create 1 teaspoon of zest. Then squeeze out as much juice from the oranges as possible.
Add the zest and orange juice to a mixing bowl, along with the ginger, garlic, soy sauce, sugar and rice wine vinegar.
Mix the cornflour with 2 tablespoons of water in a small bowl to create a cornflour slurry. Then pour the slurry into the orange sauce, stir to combine all the ingredients, then leave to one side.
Cook the rice as per the packet instructions, then keep it covered and leave it to one side.
Pour enough vegetable oil into a saucepan or wok until it's 2cm-3cm (1") deep. Make sure the oil is hot on a medium heat. You can test by dropping some batter into the oil. If it sizzles immediately, then it's ready.
Carefully drop the mushroom pieces into the hot oil – you will need to do this in batches to avoid overcrowding the pan. Cook for 2-4 minutes or until golden and crispy, then transfer on top of kitchen paper to soak up any excess oil and sprinkle over some salt. Repeat until you've cooked all the mushroom pieces.
Remove the oil from the pan and pour in the orange mixture. On a medium heat, cook the sauce for 3-5 minutes or until it has thickened slightly, then drop in the crispy mushroom pieces and stir to combine.
Serve the mushroom 'chicken' with the cooked rice and top with spring onion and sesame seeds. Delicious!