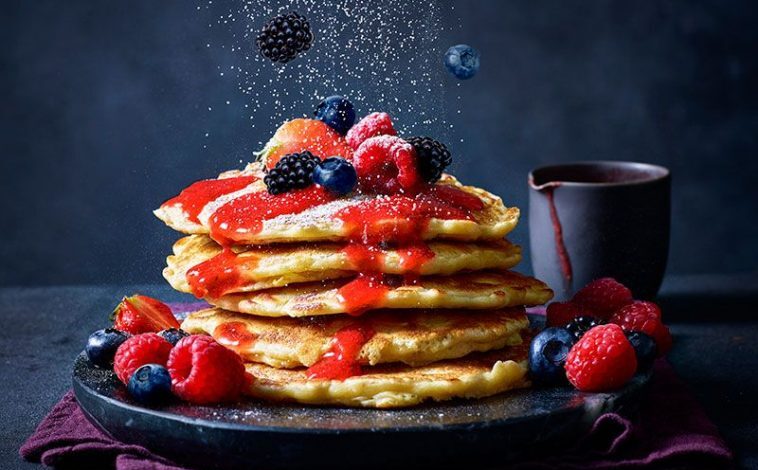 Breakfast, brunch, dessert, sweet fix… our low-Syn fruity pancakes are flippin' fabulous any time of day
About Time
Total Time 25 minutes plus 20 minutes soaking
Ingredients
2 large eggs
230ml unsweetened almond drink
1 level tsp sweetener granules, plus 1 level tsp to serve
1 tsp vanilla extract
50g porridge oats
1 level tsp baking powder
50g self-raising flour
Low-calorie cooking spray
For the sauce:

50g blueberries
50g raspberries
1 level tbsp sweetener granules
Instructions
Preheat your oven to 150°C/fan 130°C/gas 2.
Separate the eggs into 2 mixing bowls and, using a fork, whisk the almond drink, sweetener and vanilla extract into the yolks. Stir in the oats and baking powder and leave to soak for 20 minutes.
Meanwhile, make the sauce. Blitz the blueberries and raspberries with 1 level tbsp sweetener granules (if you don't have a food processor, mashing them with a fork or potato masher is fine). Press through a fine sieve into a bowl, discarding the seeds in the sieve, and pour the sauce into a jug. Chill until needed.
Sift the flour over the oaty mixture and fold it in. Whisk the egg whites into soft peaks and gently fold into the oats using a large metal spoon.
Spray a large non-stick frying pan with low-calorie cooking spray and place over a medium heat. When it's hot, add a few large spoonfuls of the batter, spaced well apart (you're aiming to make 12 pancakes altogether). Cook for 2 minutes or until bubbles start to appear in the top of the pancakes and the undersides are nicely golden brown. Flip the pancakes over and cook for another 2 minutes. Put them on a plate, cover with a clean tea towel and keep warm in the oven while you cook the rest.
Serve with the sauce (count 1 Syn per level tbsp) and the extra sweetener sprinkled over.