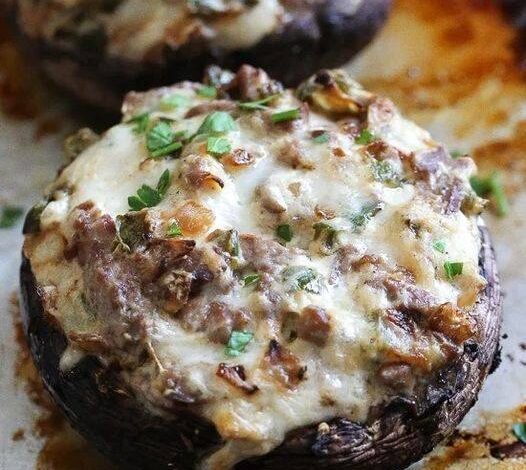 Indulge in the deliciousness of Keto Philly Cheesesteak Stuffed Portobellos, a mouthwatering low-carb twist on the classic Philly cheesesteak. These savory and satisfying stuffed portobello mushrooms offer all the flavors you love, without the excess carbs. Packed with tender steak, sautéed onions, bell peppers, and gooey melted cheese, this recipe is a keto-friendly dream for those craving a hearty and flavorful meal. Whether you're following a ketogenic diet or simply seeking a scrumptious and healthier option, these Keto Philly Cheesesteak Stuffed Portobellos are the perfect solution. Let's dive into creating this delectable and nourishing dish that's sure to become a favorite in your kitchen!
Ingredients:
4 large portobello mushrooms, stems removed
1 lb (450g) thinly sliced beef sirloin or ribeye steak
1 green bell pepper, thinly sliced
1 yellow or red bell pepper, thinly sliced
1 large onion, thinly sliced
2 tablespoons olive oil
1 tablespoon butter (or coconut oil for dairy-free)
1 teaspoon garlic powder
1 teaspoon onion powder
Salt and pepper, to taste
4 slices provolone cheese (or any other keto-friendly cheese)
Instructions:
Preheat your oven to 375°F (190°C). Line a baking sheet with parchment paper or foil for easy cleanup.
Clean the portobello mushrooms by gently wiping them with a damp paper towel. Remove the stems and gently scoop out the gills with a spoon, creating a slight cavity to hold the stuffing.
In a large skillet over medium-high heat, add 1 tablespoon of olive oil and sear the sliced beef until it's cooked to your desired level of doneness. Season with garlic powder, onion powder, salt, and pepper. Remove the cooked beef from the skillet and set it aside.
In the same skillet, add another tablespoon of olive oil and the butter (or coconut oil). Sauté the sliced onions and bell peppers until they become tender and slightly caramelized.
Preheat your oven's broiler.
Fill each portobello mushroom cap with a generous amount of the cooked beef, sautéed onions, and bell peppers.
Place a slice of provolone cheese on top of each stuffed portobello.
Arrange the stuffed portobellos on the prepared baking sheet.
Broil the stuffed portobellos in the preheated oven for 2-3 minutes or until the cheese is melted and bubbly.
Nutrition Facts per Serving (1 stuffed portobello):
Calories: 365
Total Fat: 24g
Saturated Fat: 9g
Cholesterol: 91mg
Sodium: 317mg
Total Carbohydrate: 8g
Dietary Fiber: 2g
Sugars: 4g
Protein: 27g