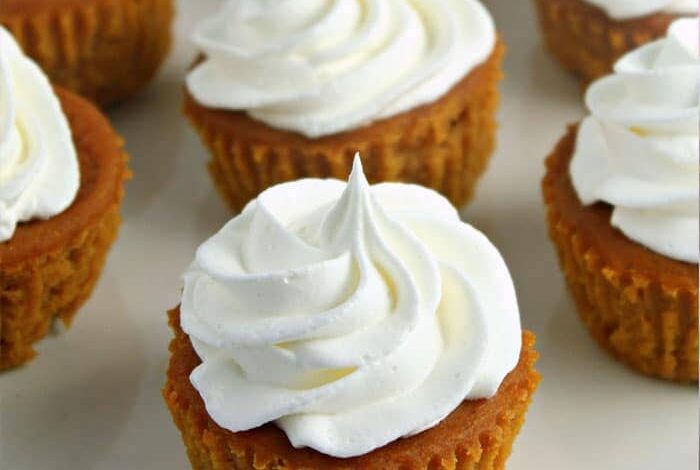 Pumpkin Pie Cupcakes (Weight Watchers)
Enjoy the delightful flavors of pumpkin pie in a guilt-free, bite-sized treat with these Lightened-Up Pumpkin Pie Cupcakes. Topped with a dollop of light whipped cream, they make for a satisfying, lower-calorie dessert.
Ingredients:
1 (15 oz.) can pure pumpkin puree
1/2 cup granulated sugar substitute (like Swerve)
2 large eggs
1 tsp. vanilla extract
3/4 cup unsweetened almond milk
2/3 cup whole wheat flour
2 tsp. pumpkin pie spice mix
1/4 tsp. kosher salt
1/4 tsp. baking soda
1/4 tsp. baking powder
Light whipped cream for topping
Instructions:
Preheat oven to 350°F and line a muffin pan with cupcake liners.
In a large bowl:

Combine pumpkin puree, sugar substitute, eggs, vanilla extract, and unsweetened almond milk. Whisk until smooth.

In a separate medium bowl:

Combine whole wheat flour, pumpkin pie spice mix, salt, baking soda, and baking powder. Whisk until well combined.

Pour the dry mixture into the pumpkin mixture and mix just until combined.
Use a cookie scoop to scoop batter into the prepared muffin pan.

Fill each muffin cup with 1/3 cup batter (make sure you fill at least halfway full – these will deflate a bit when cooling).

Bake for about 20 minutes until cupcakes are set.
Let cool in the muffin pan for about 30 minutes.
Transfer cupcakes to a serving tray or plate and chill in the refrigerator for an additional 30 minutes.
When ready to serve, top cupcakes with light whipped cream and sprinkle with a touch of pumpkin pie spice.
Weight Watchers Note:
Use sugar substitutes to reduce SmartPoints.
Opt for unsweetened almond milk for a lower-calorie alternative.
Enjoy the deliciousness with fewer calories and SmartPoints!
Nutrition (per serving):
Serving: 1 cupcake
Calories: 64
Carbohydrates: 12g
Protein: 2g
Fat: 1g
Saturated Fat: 0g
Cholesterol: 27mg
Sodium: 64mg
Potassium: 51mg
Fiber: 1g
Sugar: 7g
Vitamin A: 91IU
Vitamin C: 1mg
Calcium: 35mg
Iron: 0.5mg
Enjoy these guilt-free Pumpkin Pie Cupcakes as a delightful treat on your Weight Watchers journey!