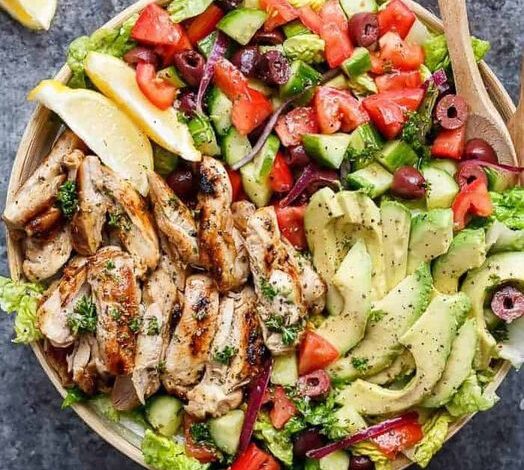 Ingredients:
4 boneless, skinless chicken breasts
2 tablespoons olive oil
2 cloves garlic, minced
Zest and juice of 1 lemon
1 teaspoon dried oregano
Salt and pepper to taste
Mixed salad greens
Cherry tomatoes, halved
Cucumber slices
Red onion, thinly sliced
Light vinaigrette dressing (choose a low-point option)
Instructions:
In a bowl, mix olive oil, minced garlic, lemon zest, lemon juice, dried oregano, salt, and pepper. Marinate chicken breasts in this mixture for 30 minutes.
Grill the chicken until fully cooked and slightly charred.
Slice the grilled chicken and arrange it on a bed of mixed salad greens, cherry tomatoes, cucumber slices, and red onion.
Drizzle with a light vinaigrette dressing.