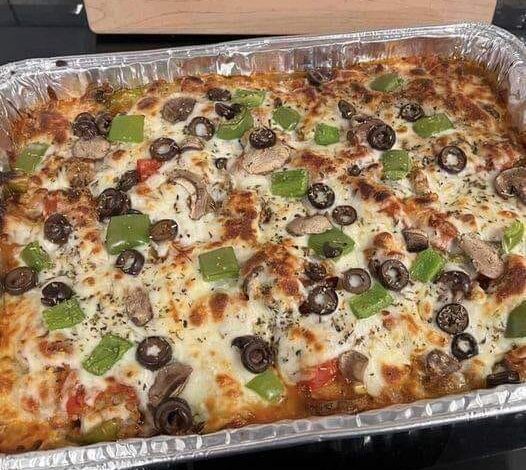 This recipe allows you to customize your toppings according to your preferences, making it a versatile and satisfying dish. With a rich marinara sauce, savory Italian sausage, and a generous amount of melty cheese, this pizza bake is sure to become a family favorite.
Ingredients
1 jar RAO's marinara
3 cups mozzarella cheese
1 lb. Ground Italian sausage – or meat combo of choice
1 green pepper chopped
Mushrooms
Onions
Instructions
Basically use the toppings of your choice.
Pour 1/2 cup marinara in the bottom of a 9×13 baking dish.
Mix all toppings in a bowl with 1 cup Mozzarella and 1 cup marinara.
Pour topping mixture into pan.
Top with the last 2 cups of mozzarella.
Bake at 400 for 20 minutes.
Broil for an additional 3-5 minutes if desired.
Enjoy!