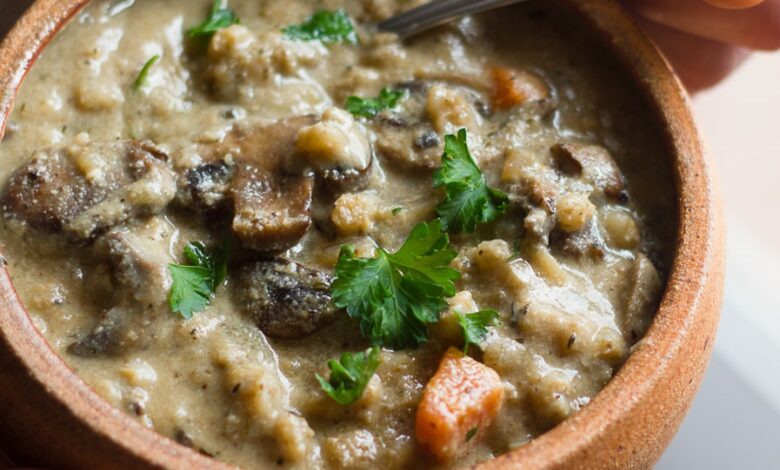 CREAMY VEGAN MUSHROOM BARLEY SOUP

Ingredients
¼ cup olive oil
1 pound assorted fresh mushrooms, I used a mix of button, cremini and shiitake, cleaned and chopped
1 medium onion, diced
2 medium carrots, diced
2 celery ribs, diced
4 garlic cloves, minced
1 cup dry white wine
1 teaspoon dried thyme
6 cups low sodium vegetable broth, divided
½ cup dried pearl barley
½ cup raw cashews, soaked in water 4 to 8 hours and drained
1 ½ tablespoons soy sauce
1 ½ teaspoons white miso paste, optional but recommended
salt and pepper to taste
Instructions
Coat the bottom of a large pot with oil and place over medium heat. When oil is hot, add the mushrooms in as even a layer as possible. Allow to cook for about 5 minutes, flip and cook 5 minutes more, until most of the mushrooms are nicely browned. Add onion, carrot, celery, and garlic to the pot and saut­­é until vegetables are softened, about 5 minutes.
Add wine and thyme to the pot. Raise heat and bring to a simmer. Lower heat and allow to simmer until the liquid is reduced by half, about 5 minutes. Add 5 cups of broth and barley to the pot. Raise heat again and bring to a boil. Lower heat and allow to simmer, uncovered, until the barley is tender, about 45 minutes.
Transfer 1 cup of the soup into a blender. Add remaining 1 cup of broth, and cashews. Blend until the mixture is smooth and creamy, then return it to the pot. Add the cashew mixture to the pot, along with soy sauce and miso, if using. Stir until all ingredients are fully incorporated, making sure to fully dissolve the miso. The soup will be very thick at this point. Thin it with some water if desired. Reheat for a minute or two, and season with salt and pepper to taste.
Divide into bowls and serve.
Recipe Notes
If you forgot to soak your cashews, just place them in a saucepan with some water and boil for about 15 minutes.
Nutrition Facts
Creamy Vegan Mushroom Barley Soup
Amount Per Serving
Calories 428Calories from Fat 193
% Daily Value*
Fat 21.4g33%
Saturated Fat 3.5g18%
Sodium 1047mg44%
Potassium 777mg22%
Carbohydrates 44.4g15%
Fiber 7.3g29%
Sugar 8g9%
Protein 10.2g20%
Calcium 40mg4%
Iron 5.8mg32%