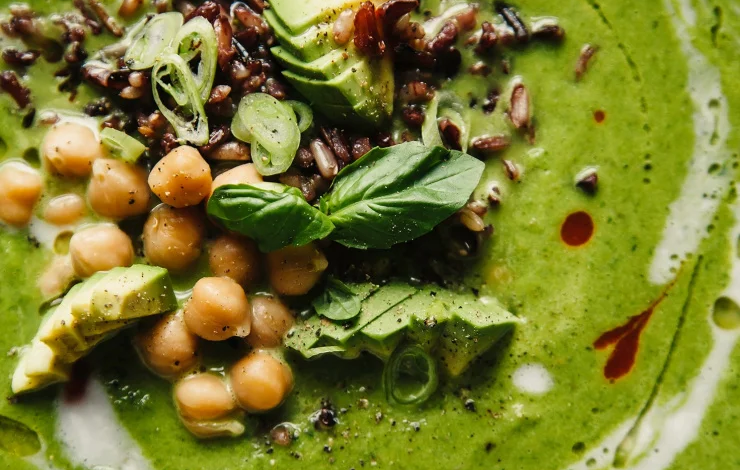 Coconut Green Soup with Celery, Kale & Ginger
Prep Time: 15 minutes MINS
Cook Time: 25 minutes MINS
Total Time: 40 minutes MINS
Servings: 6
Ingredients:
Soup
1 teaspoon whole cumin seeds
1 teaspoon whole coriander seeds
2 teaspoons coconut oil
1 large shallot, chopped (about ¾ cup diced shallot)
1 medium zucchini, chopped
1 small bunch of celery, chopped (about 4 cups chopped celery)
1 medium apple, peeled, cored, and chopped
3 inches fresh ginger, peeled and chopped (roughly 2 tablespoons)
6 cups chicken or turkey stock
Sea salt and ground black pepper, to taste
4 cups chopped and packed greens (I used kale and a bit of chard)
1 14-ounce can full-fat coconut milk
2 tablespoons lime juice
For Topping/Garnishing:
Cooked brown rice
Cooked shredded chicken or turkey
Sliced ripe avocado
Extra coconut milk
Olive oil or chili-infused olive oil
Chopped basil or chives
Instructions:
Heat a large, heavy pot over medium heat. Add the cumin and coriander seeds to the pot and toast in the dry pot until fragrant, about 1 minute. Remove the spices from the pot and grind them to a powder. Set aside.
Drop the coconut oil into the pot and let it melt/heat up for 30 seconds. Add the shallots to the pot and cook, stirring frequently, until soft and translucent, about 3 minutes. Add the zucchini, celery, and apple to the pot and stir. Add the ginger, ground cumin, and coriander to the pot and stir to distribute the spices among the vegetables.
Add the chicken or turkey stock to the pot and stir. Season with salt and pepper. Bring the vegetables and broth to a boil and then simmer, stirring here and there, until the zucchini is very tender, about 10 minutes.
Add the chopped greens and coconut milk to the pot and stir to mix. Keep simmering and stirring until the greens have wilted and are bright green. Remove the vegetables and stock from the heat.
Purée the soup with a stick blender or in batches using an upright blender. Return the puréed soup to the pot and bring it to a boil. Stir the fresh lime juice into the soup and adjust any other seasoning. Serve coconut green soup hot with any garnishes you like.
Recipe Notes:
I cook a diced zucchini in this soup to make it a little extra bit creamy, but if you have cooked white or navy beans on hand, you could throw 3/4 cup of them into the soup right before you purée it for a similar texture and extra protein.
Coconut green soup with celery, kale, and ginger is creamy, comforting, and restorative with a touch of spice. Delicious and super healthy.