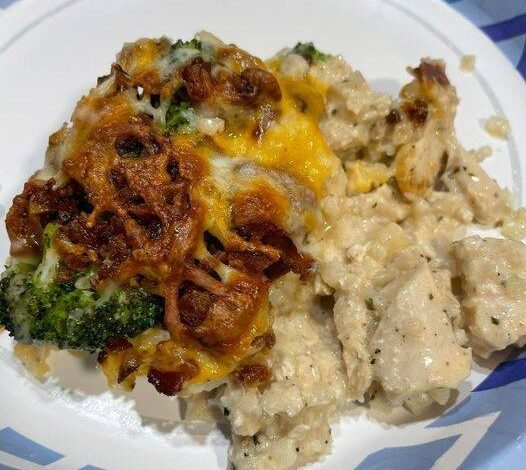 Ingredients
1/2 lb bacon, cooked and chopped(I used 1#)
2 lb chicken, boneless/skinless, diced
1 tbsp olive oil
Hidden Valley Original Ranch Salad Dressing & Seasoning Mix, Gluten Free – 1 Packet
12 ounce bag of Cauliflower-steamed
1 cup of Steamed Broccoli
1 cup mozzarella cheese, shredded
1/2 cup cheddar cheese, shredded
salt/pepper, to taste
14.5 oz Rao's Alfredo sauce
Instructions
Preheat oven to375 degrees and grease a 9 x 9 baking dish.
Heat a large skillet over medium heat. Cook bacon until crispy, about 7 minutes.
Drain bacon grease from skillet and place bacon on a paper towel to absorb the remaining grease from bacon.
In a gallon size Ziploc bag, add the olive oil, diced chicken (raw still at this point), and Ranch mix.
Shake around the sealed bag to coat thoroughly.
Add chicken to skillet and cook until no longer pink.
Add cooked chicken and Alfredo sauce to the Cauliflower rice and broccoli in a medium bowl and mix well.
Sprinkle both kinds of cheese, bacon, and salt/pepper to the top of the Alfredo sauce mixture and place the dish into the preheated oven.
Bake until bubbly and cheese is melted, about 15 minutes.
Remove from oven and serve!
Enjoy!