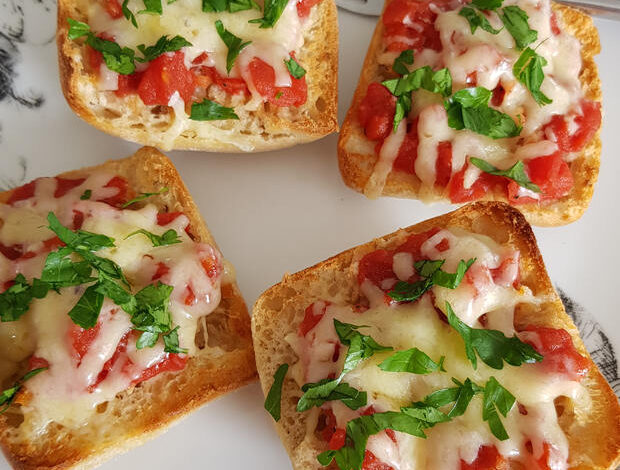 This Cheesy Garlic Bread is the best accompaniment to all our favourite slimming-friendly dishes – and it's perfect for Weight Watchers or calorie counting plans!
Prep Time 10mins
Cook Time 10mins
Total Time 20mins
Course: Appetizer
Cuisine: slimming world
Keyword: Cheesy Garlic Bread
Servings: 4
Ingredients
2 Schar white ciabatta rolls
40 g light cheddar cheese finely grated
4 tbsp chopped tomatoes
1 garlic cloves peeled but leave whole
5 g fresh parsley chopped finely
low calorie cooking spray
Instructions
Pre-heat your oven to 200C
Slice the Schar ciabattas in half and place on an oven tray
Bash the garlic with the back of a knife and rub the ciabatta well. If you like your garlic bread very garlicky then chop finely and scatter on the ciabatta.
Spray the ciabatta with low calorie cooking spray and place in the oven for 5 minutes
Take them out of the oven, top with tomatoes & cheese and scatter some of the parsley on top. Return to the oven until the cheese has melted. Enjoy!
Notes
CALORIES 85CARBS 12GPROTEIN 5GFAT3 GSATURATES 1GSUGARS 1G