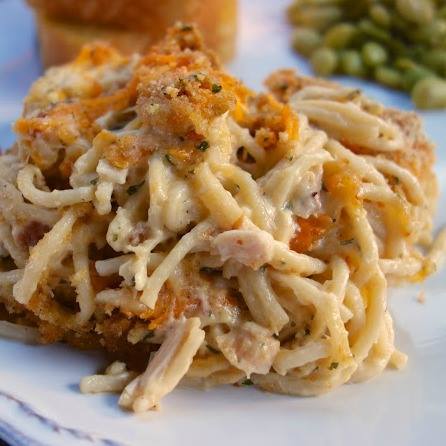 CHEESY CHICKEN SPAGHETTI CASSEROLE

Ingredients:
4 cups cooked chopped chicken (1 whole rotisserie chicken)
12- oz spaghetti, cooked and drained
2 (10.5-oz) cans Unsalted Cream of Chicken Soup (I used 98% fat free)
¼ cup chicken broth
16- oz sour cream (I used light)
1 stick of butter, melted
¼ tsp cayenne pepper
¼ cup dried parsley
½ tsp salt
¼ tsp ground pepper
1 tsp Italian seasoning
½ cup Parmesan cheese
1½ to 2 cups shredded cheddar cheese
1 cup Italian breadcrumbs
Instructions:
Preheat oven to 350ºF.
Combine first 12 ingredients. Spread into a lightly greased 9×13-inch dish (or 2 9×9-inch dishes). Top with cheddar cheese and breadcrumbs.
Bake uncovered for 45-60 minutes, until bubbly.