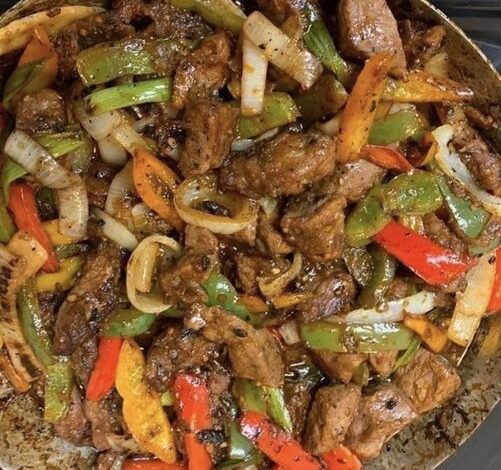 BEST EVER PEPPER STEAK
Ingredients
1 tablespoon vegetable oil divided use
1 red bell pepper cored, seeded and cut into strips
1 green bell pepper cored, seeded and cut into strips
1 1/4 pounds flank steak thinly sliced
2 teaspoons minced garlic
1 teaspoon minced ginger
salt and pepper to taste
1/4 cup soy sauce
1 1/2 tablespoons sugar
1 1/2 tablespoons cornstarch
Instructions
Heat 1 teaspoon of the vegetable oil over medium high heat in a large pan.
Add the peppers and cook for 3-4 minutes or until just tender. Remove the peppers from the pan and place on a plate.
Add the remaining oil to the pan. Season the flank steak with salt and pepper to taste.
Increase heat to high. Add the steak to the pan and cook for 5-6 minutes or until lightly browned.
Add the garlic and ginger, then cook for 30 seconds.
Place the peppers back in the pan with the steak.
In a small bowl, whisk together the soy sauce, sugar, 1/4 cup water and cornstarch.
Pour the sauce over the steak mixture and bring to a simmer. Cook for 2-3 minutes or until sauce has just thickened, then serve.