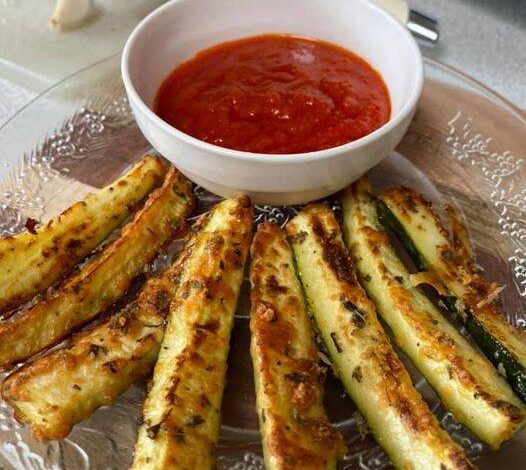 Ingredients:
2 medium zucchinis, cut into fries
1/2 cup grated Parmesan cheese
1/2 cup breadcrumbs (whole wheat for a healthier option)
1 teaspoon garlic powder
1 teaspoon paprika
1/2 teaspoon salt
1/4 teaspoon black pepper
2 eggs, beaten (or egg substitute)
Instructions:
Preheat your oven to 425°F (220°C). Line a baking sheet with parchment paper or lightly grease it.
In a shallow bowl, mix together the Parmesan cheese, breadcrumbs, garlic powder, paprika, salt, and black pepper.
Dip each zucchini fry into the beaten eggs and then coat it with the Parmesan mixture, ensuring it's evenly covered. Place the coated fries onto the prepared baking sheet.
Bake for about 20-25 minutes or until the fries are golden brown and crispy, flipping them halfway through to ensure even cooking.
Serve these delicious zucchini fries with a light dip made of Greek yogurt mixed with some herbs and a touch of lemon juice.