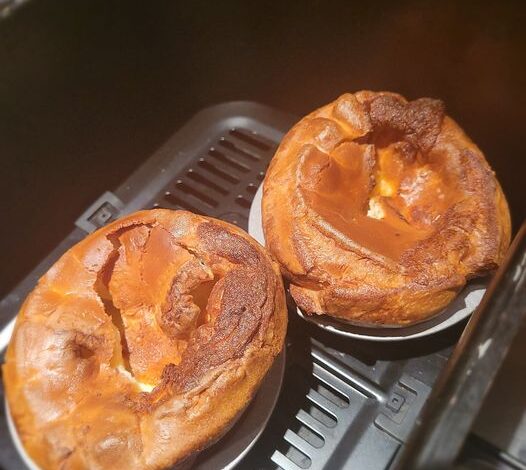 YIELD: 16
The Air Fryer Yorkshire pudding is a 5 ingredient show-stopping golden puffy buns that are made in the air fryer in minutes and risen to a jaw-dropping height and shape.
The air fryer gives the pudding a nice crispy exterior while keeping the inside light, airy and fluffy.
PREP TIME5 minutes
COOK TIME13 minutes
TOTAL TIME18 minutes
INGREDIENTS
1 cup of milk
1 cup of flour
3 medium eggs
½ teaspoon salt
2 Tablespoons oil
½ teaspoon of sugar, optional. I like to add sugar for a sweet and savory taste.
Seasoning of choice. I added a pinch of black pepper, pinch of garlic powder and a pinch of Italian seasoning. While seasoning is optional too and I love how it adds more flavor to the buns.
Oil for greasing. Or spray oil.
INSTRUCTIONS
Combine all ingredients in a bowl and whisk until smooth consistency.
Ensure there are no lumps in the batter.
Generously grease each muffin cup with oil and place them in the air fryer to heat up for 5 minutes
Pour the batter into each hot greased muffin cup. Fill it in only halfway.
Then cook on air-fry mode for 13 minutes at 375 degrees Fahrenheit (190 °C). Flip after 10 minutes and cook the bottoms for the remaining 3 minutes or until golden to your liking.
If using "Bake" mode, you can increase the temperature to 400F/200C.
The result is golden, fluffy Yorkshire puddings that are sure to impress your family and friends.
NOTES
What equipment do I need?
For Air fryer Yorkshire puddings you need the Air fryer and muffin tins (greased). The air fryer model that I use is Ninja Foodi 6-in-1. For the tins, I tested this recipe using ramekins and silicone muffin liners. While the Yorkie buns make absolutely no mess and do not get stuck to either ramekins or silicone cups, (I repeat, they must be thoroughly greased), I found that it is much easier to cook the Yorkie buns using silicone muffin cups. They slide out of the muffin tins with ease. Plus they rise better, see the picture below.
Do I need to flip Yorkshire Pudding?
Yes. Cook for initial 10 minutes, then open your air fryer. Once you open it, be prepared for the jaw-dropping effect. You will be amazed at how beautiful they look and how much they have risen. Flip each Yorkie pudding on the other side. At this point, you may decide to take them out of the muffin cups. Cook the bottoms at the same temperature for 3 minutes or until golden to your liking.