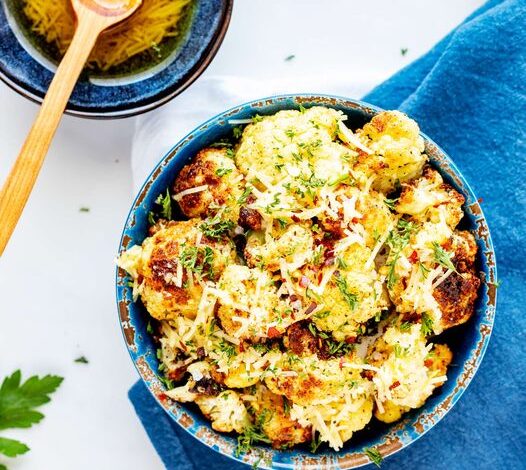 Get ready to enjoy the flavors of garlic, parmesan cheese, and seasonings all combined together for a tasty treat! This easy keto air fryer cauliflower recipe is the perfect easy size. With minimal ingredients and simple instructions, it's a breeze to prepare. Enjoy the crunchy goodness of this air fried cauliflower tonight for an irresistible dinner!
Prep Time10minutes mins
Cook Time12minutes mins
Total Time22minutes mins
Course: Side Dish
Cuisine: American
Keyword: air fryer
Servings:  4
Calories: 198.81kcal
Equipment
Ingredients
12 ounces cauliflower florets about 1 small or ½ large head
1 tablespoon avocado oil
½ teaspoon sea salt
¼ teaspoon fresh ground black pepper
For topping
¼ cup avocado or olive oil
¼ cup parmesan cheese
1 teaspoon minced garlic
1 teaspoon grated lemon zest
Fresh parsley for garnish
Instructions
In a large bowl, toss together the cauliflower, avocado oil, salt, and pepper.
Preheat your air fryer to 400° F. Arrange the cauliflower in your air fryer in a single layer and cook for 6 minutes. Toss and cook for another 6 minutes.
While the cauliflower is cooking, whisk together the oil, parmesan, garlic, and lemon zest.
Transfer the cauliflower to a serving platter and drizzle with the parmesan oil. Sprinkle with the parsley and serve immediately.
Nutrition
Calories: 198.81kcal | Carbohydrates: 4.84g | Protein: 3.93g | Fat: 18.99g | Saturated Fat: 3.12g | Polyunsaturated Fat: 2.38g | Monounsaturated Fat: 12.58g | Cholesterol: 4.25mg | Sodium: 416.51mg | Potassium: 265.57mg | Fiber: 1.8g | Sugar: 1.7g | Vitamin A: 49.81IU | Vitamin C: 41.87mg | Calcium: 95.47mg | Iron: 0.44mg