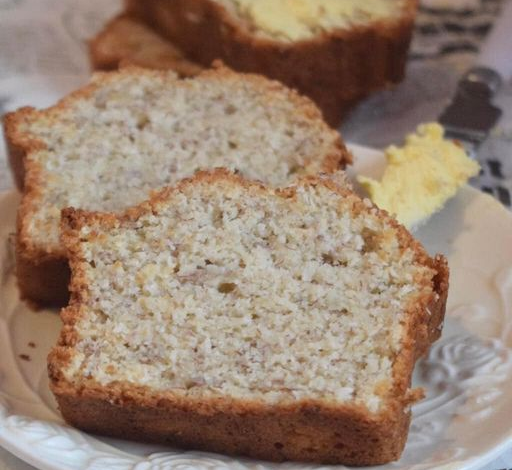 Bananas are rich in sleep-promoting nutrients like tryptophan, magnesium, vitamin B6, and potassium, all of which can improve the quality of your sleep. Enjoy the taste of the banana and the coconut in a delicious bread toasted or just on its own.
Ingredients:
2 ripe bananas, mashed
1/4 cup unsweetened applesauce
1/4 cup granulated sugar (or a sugar substitute to reduce WW points)
1 large egg
1 tsp vanilla extract
1 cup all-purpose flour
1/2 tsp baking soda
1/2 tsp baking powder
1/4 tsp salt
1/4 cup shredded unsweetened coconut
1/4 cup chopped walnuts (optional)
Instructions:
Preheat your oven to 350°F (175°C). Grease a 9×5-inch (23×13 cm) loaf pan or line it with parchment paper.
In a mixing bowl, combine the mashed bananas, applesauce, sugar (or sugar substitute), egg, and vanilla extract. Mix until well combined.
In another bowl, whisk together the flour, baking soda, baking powder, and salt.
Gradually add the dry ingredients to the banana mixture, stirring until just combined. Be careful not to overmix.
Fold in the shredded coconut and chopped walnuts (if using).
Pour the batter into the prepared loaf pan and spread it evenly.
Bake for about 45-50 minutes, or until a toothpick inserted into the center comes out clean.
Allow the banana coconut bread to cool in the pan for a few minutes, then transfer it to a wire rack to cool completely
WW Points
The points can vary based on ingredients and portion sizes, but it's 4 WW points per serving when the loaf is cut into 10 slices.