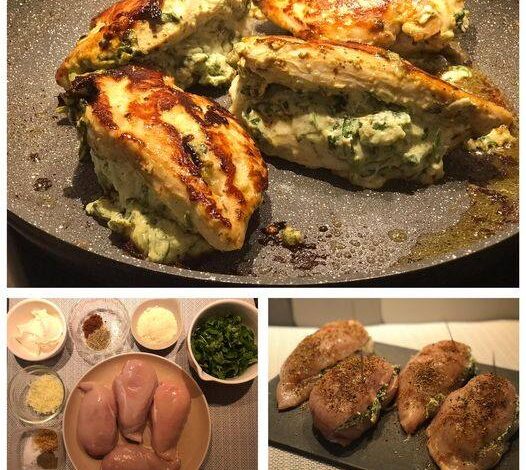 Serves 4
Kcals: 281
Carbs: 3g
Fat: 16g
Not gonna lie…this tastes reaaaaaally good! Easy to make too.
Ingredients:
4 x 113g (4oz) Chicken breasts
1 Tsp chilli powder
1 Tsp Italian seasoning
1/2 Tsp black pepper
1/2 Tsp salt
Filling:
60g (2 cups) fresh spinach leaves chopped
113g (4oz) cream cheese – room temp
30g (1/4 cup) Parmesan cheese
30g (1/4 cup) grated mozzarella cheese
1 Tbsp crushed garlic
Salt & pepper to taste
Instructions:
Make the filling:
Get a medium bowl & add mix together the spinach, cream cheese, Parmesan cheese, mozzarella cheese, garlic, salt & pepper
Butterfly your chicken:
Put chicken breasts on a flat surface. Put one hand on top to hold in place then slice 3/4 the way through the chicken breast (lengthways)
Stuff the chicken:
Divide the filling into 4 equal parts and spoon into the middle of the cut chicken breasts. Fold the chicken flap back down to seal in the mix. (Mine didn't fold all the way down.
To cook:
Heat a non stock pan on medium high & add 1 Tbsp olive oil.

Place all 4 chicken breasts in the pan and cover with a lid for about 9-10 mins.
Turn the breasts over and cook for another 9-10 mins (or until cooked through)